Thresher Sharks Caught Back-to-Back with Jordan Ellis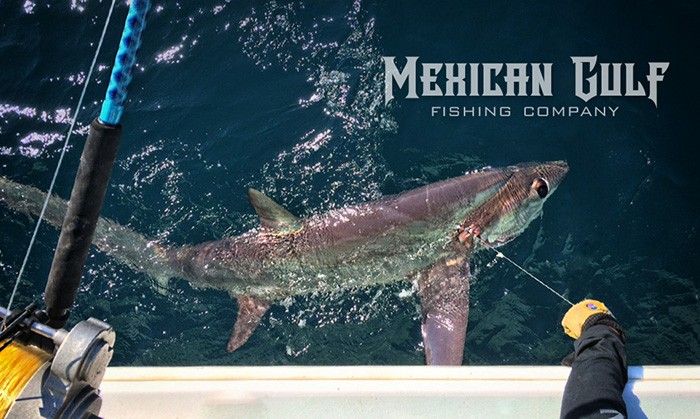 Is there's one species of fish that really gets the adrenaline flowing — for nearly all anglers — it's the shark. Capt. Jordan Ellis has caught plenty in his decade long career as a professional guide, and many more as he grew up fishing on the Mississippi Gulf Coast. Jordan put two charter groups on thresher sharks recently while fishing out of Venice Marina in the Gulf of Mexico.
Thresher sharks are strange and weird looking creatures. Average lengths are 12-15 feet long, with weights in the 200-400 pound range most common. They're good fighting fish, though protected so it's catch and release only. The unique thing about thresher sharks is their tail — it can be almost as long as their body — which makes it a sight to see once you realize what you've got on the line, and as you get it close to the boat.
There are three species of thresher sharks: the common thresher, bigeye thresher, and pelagic thresher sharks. They love warm waters in the Gulf of Mexico and can be found swimming at a wide ranges of depths.
All three species of thresher sharks are listed as vulnerable by the IUCN Red List, but in some areas it is now believed to be a species on the mend, bigeye thresher sharks make spotty, though not infrequent appearances in the Gulf of Mexico. Jordan and his group were not targeting the species. As with most anglers who come face-to-face with thresher sharks, this one was caught while dropping for swordfish.
"We had a few lines out at different depths going for some daytime swordfish," says Jordan. "We have had great success on a consistent basis putting our customers on nice sized daytime swords, and I was fishing in an area that I knew would be productive."
Thresher sharks are most commonly hooked between November through March off Louisiana's Gulf coast. They're fickle when it comes to water temperature, only liking a very narrow range between the mid 60s and low 70 degrees.
Thresher Sharks — It's the Tail that Gets ya!
The upper lobe of a thresher's tail — making up almost 50 percent of its total body length — serves two purposes, first as a long, menacing arm that is used to corral baitfish into a dense "meatball" as the shark spirals around an anxious school. And then, the tail transforms into a fierce whip as the thresher shark cleaves the densely compacted school into pieces. After that, it's a genteel swimming deep sea buffet for these creatures that appear to be lost in space, or from a prehistoric era.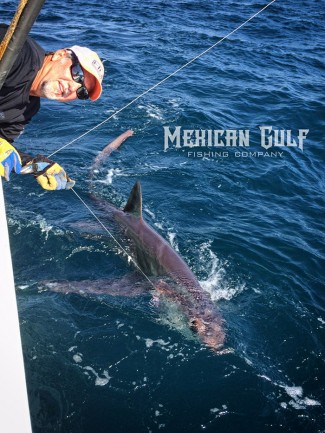 Thresher sharks stage a fantastic fights. The fish sport uncanny speeds, and they make leaps that have it hanging in midair, a phenomenon known as butterflying. Threshers have it all: speed, dexterity, they swim at varied depths, and they put up fierce fights.
On these two trips, the scene was almost identical. Both trips resulted in Jordan's charter groups bringing swordfish home to eat. Catching thresher sharks was an unexpected bonus.
"We had baits down for swordfish, and I knew fish were in the area. Once the baits are down, I watch the rods constantly. If we get a knockdown or the rod even twitches the slightest bit, I'll dump the reel into free-spool and stop the boat. We hooked up, and it was wild! It dropped hard, then ran, we were on it, and the fight went good. By the time it cracked the water, I had a good idea we had a shark on. When it came through, we were all like — holy cow — did you just see that."
Had they know what was on the line, they might have thought of tying in. As it was, Aftco proved it's metal against these fish, and all went well. Thanks, too, in large part to Shimano Rods & reels. Remember these names, Talica, Terez, and Tallus.
Once they had the fish along side the boat, its unique fin structure was on display for all to see. The large fish was kept safely on the side of the f/v ShockWave while Jordan and 1st Mate Jeff Schneider worked diligently to assure a safe release.
"We use Mustad Perfect Circle hooks," says Jordan. "They're one of the most important tools on our boat, and it's the number one reason we're so confident in being able to safely release fish and return them in good health to their habitat."
The Mustad hooks virtually eliminate the possibility of foul hooking a shark or any large game species for that matter. "We aim to set the hooks in the corner of their mouths, and keep them snug," says Jordan. This assures us of a good catch-release and we know the fish we release are going to survive.