Kimmi's Maiden Voyage; Namesake Would be Proud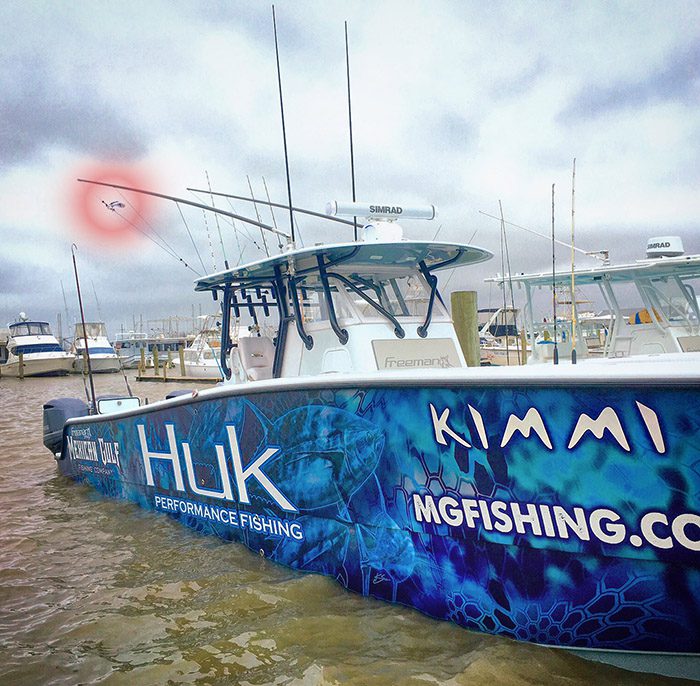 So, … Capt. Jordan Ellis names his new boat after his beloved momma. And, … his momma's favorite fish in the whole world is a blue marlin. And, … on the first trip out in the f/v Kimmi — they land a blue marlin. Coincidence? We think not. Powers above; lots of Love! Momma Kim would be proud.
Jordan and his charter braved iffy (nautical term there) weather, and headed out a bit later than normal from Venice Marina. First cast brought in a yellowfin, and the second fish to the boat was a blue marlin.
Yes, the Marlin flag flew high and mighty on the Kimmi as she made her maiden voyage, and smiles were wide all around when Jordan and his charter made it back to the dock. Final tally? Seven tuna and one marlin.
Congrats, Jordan! nicely done.
Customers Praise Jordan Ellis & f/v Kimmi
It's one thing to hear us brag about Jordan, and it's still a bit of the same to listen to us talk about offshore charter fishing with The MGFC, but it's another when you get the words straight from our customer's mouths. That's just what Jennifer Bryan wrote in to tell us after her group's charter trip with Captain Jordan — the 1st trip on the Kimmi. Here's what Jennifer had to say, …
"Good Morning,
On Friday April 15th, we had our charter scheduled with Captain Jordan on his maiden voyage of his new boat the Kimmi. I have been on many charters over the years with the same crew each time we go. Each trip has provided us all with lifetime memories that we share on a regular basis, BUT there was something SPECIAL about this trip."
"We had our first charter with MGFC two years ago and it was amazing!"
"I follow MGFC on Facebook on a regular basis to keep up with the fishing and what the different captains are doing. I recall when Captain Jordan joined the team officially and it was then that I knew I wanted to go fishing with him, it's a reason I cannot explain. We call it faith."
"Little did any of us know when we planned this trip that we would be going out on a new boat. From the first phone call to the moment we parted ways at the end of the day, Captain Jordan exceeded all of my expectations and those of my "crew".
"This turned out to be a trip that held special meaning to all of us, Captain included (I am sure). 2nd fish on the line was a marlin, and then a whale off in the distance, a little bird that for no real reason just hung out on the boat as we fished. It's the small things in life that show us signs that we are where and who we are supposed to be with!"
"Love the new boat and look forward to our next trip which I have already booked for later in the year!"
Until then, Blue Waters, Yellow Fins and Tight Lines
Wood – Jennifer Bryan
Thank you, Jennifer. Thank you for booking a trip with Jordan Ellis. Thank you for being a repeat customer at MGFC. And thank you, most sincerely, for taking the time to share a few words about your experience fishing with us on the beautiful and bountiful Gulf of Mexico. Customers like yourself, truly are the best.
Do you want to book a trip on the Kimmi? Do you want to fish offshore with Jordan Ellis. Book it online, then send us your fish report, and we'll share it right here. Thanks, again, Jennifer. We're all jazzed that you had such a memorable trip with MGFC.