Venice Louisiana Fishing: MGFC

Book a Charter
Venice Louisiana fishing is fishing at it's best. Offshore, blue water fishing at its best.
Come down to Venice to catch big fish. We fish for yellowfin tuna, blue marlin, white marlin, mako sharks, wahoo, mahi-mahi and more.
Book Now! For a great offshore fishing experience in Venice, LA. It's easy with MGFC's online booking engine. View open dates, pick a day to fish, and click to book! We'll have you on big fish in no time. Charter trips start at $1,800 + fuel per boat. Each boat accommodates up to six passengers (in one group).
Note: a 4% processing fee is added to all credit card payments. Deposits of $300 must be paid by credit card online. Balance each account can be paid by cash, check or credit card. Thank you for choosing to fish with MGFC. We appreciate your business.
Venice Louisiana Fishing Condos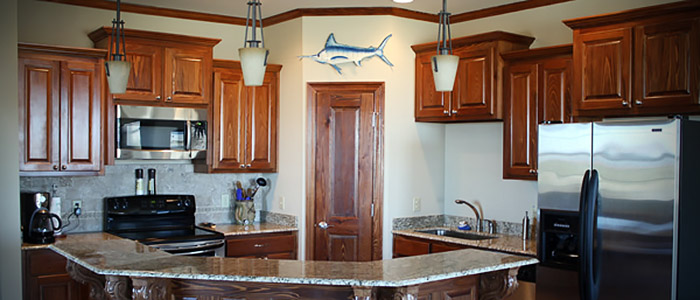 Stay with us to rest and relax in comfort. The Mexican Gulf Fishing Company offers anglers a choice of accommodation when they want to book Venice Louisiana fishing trips.
Want the lap of luxury just minutes from the dock? Then stay in one of our condos at Cobia Villas.
Each unit is 3 bedrooms, 2 baths. Condos sleep six people, and each has six beds. The best part is, … you're just minutes from Venice Marina.
MGFC's lodging provides you with peace and solitude of your own place, with view high above the marshes of the Mississippi River Delta. We have the best places to stay when offshore fishing in Venice, LA.
To book a condo with your next trip, Call Capt. Billy Wells or Capt. Kevin Beach and check availability.
Ask us about lodging when you book your next trip. What are ya waiting for? Call us and fish, rest, then fish some more.
Venice Louisiana Fishing on Call
Are you looking for Venice Louisiana fishing trips, but can't find the days you want open? If you've already been to our booking calendar, and the days are not open online, no worries. Give us a call. MGFC maintains valuable relationships with a select group of trusted and talented Charter Captains.
These captains have agreed to work with MGFC at time when our calendars are full. Think of it as — MGFC on Call. Here to give you a great offshore experience, by guides you can trust. Contact Capt. Kevin Beach or Capt. Billy Wells if all four of our full-time boats are booked on the day you want to charter. Yellowfin tuna Venice, LA: Book today with MGFC.