Captain Colin Byrd Charter Fishing from Venice, La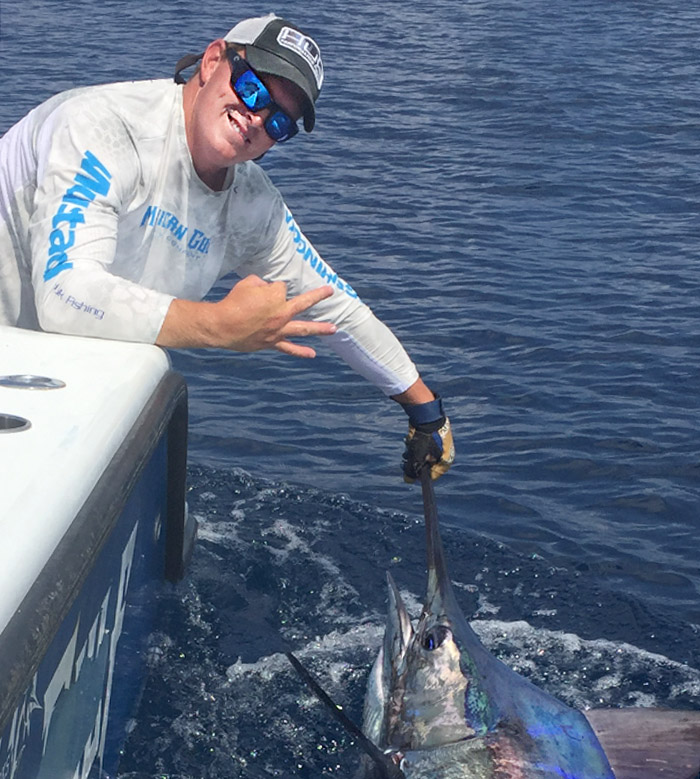 Captain Colin Byrd first fished as a 5 year old boy, and says he was charged by the experience on the very first cast. He caught his first sailfish at he age of 12 while on a family trip to Mexico, and says he knew from that moment he would be a life long fisherman, and that offshore was "his thing."
Colin is a charter captain with a 50-ton Masters license. He's fished as a 1st mate, and as a captain on many charter boats and private yachts. He's the newest member of the MGFC team, but with years of experience at the helm, and in blue water.
Fish with Colin Byrd, and you'll see what it means to go the extra mile. Never content to shrug shoulders, or stop. Colin says, "I'm here for you. That is what I do. We'll fish, we'll keep an open mind, and we'll come back with broad smiles on our faces from having good camaraderie and a great day at sea."
Trips with Capt. Colin are $2,000 + fuel per boat, per day. Note: A 4% processing fee is added to all credit card  orders. Deposits must be paid by credit card. Balances on each trip may be paid by cash, check, or credit card. His vessel holds up to six passengers.
Fees include the guided trip plus all fishing tackle, bait, ice for the fish box on the boat, and fish cleaning at the dock
He runs a 42-ft Freeman Boatworks catamaran. (42ft vessel for charters in 2019). It sports the latest in Simrad electronics, tackle by Shimano and Mustad, and comfy bean bag chairs from E-SeaRider. You'll love the smooth ride, and marvel at the great gear on board.
Colin's favorite trips come in two styles. The first is when he has a defined target by his customers, and they're able to nail that target to the wall. The 2nd is when things go slightly awry. Fish as slow that day, target species just aren't there, perhaps he has bad weather to avoid, but with quick thinking and an open mind, he puts customers on fun fishing, and with necessity being the mother of invention — what once looked bleak comes up all action and overflowing ice chests.
Colin Byrd: 3 tips for offshore success
be prepared and pay attention to details
keep an open mind and remember to have fun
live life AND live it to the fullest
Colin's promise to anglers is this, "you let me worry about the first one above. I am 100% dedicated to being on the water. I fish weekends so you can come down on the days most convenient to you. Sit back, stand up, joke around and have fun. Keep an open mind and go with the flow of things. I've got the details covered, just listen up and live life through the thrilling experience of a blue water charter."His favorite species include: yellowfin tuna, wahoo in the winter, and big blue marlin.In fact, ask him about that one Blue Marlin from few years ago at the World Billfish Championships.
He says no two days on the Gulf of Mexico are the same. "It's an amazing body of water, with an incredibly rich fishery," says Colin. "There is no way you can have a bad day on the water when you're fishing with MGFC. I promise you won't have a bad day when you're fishing with me."
So why is Colin with MGFC?
When asked Why MGFC? Colin says: "Straight up, they're the best, and I want to be a part of it.""It was a great honor for me to be invited to join this company. I take that responsibility with accountability. I take it with pride. Hands down: I think this is the best charter fishing outfit from South Florida all the way over to Texas. MGFC is professional staff, the nicest people to be around, great camaraderie, respect for mother nature, and without a doubt the best damn gear. This is where I want to be."Colin says customer service is his goal. It's the goal for MGFC, as well. From start to finish. From the moment you book a trip, until the moment we've got you back at the dock, and then in the way we package the fish, share good memories with you, and follow-up with you post-trips to help you book another — MGFC is here to make sure you experience the thrill of open water, in a safe, thrilling and cheerful manner.
Book now with Colin Byrd, and experience the best the Gulf has to offer.