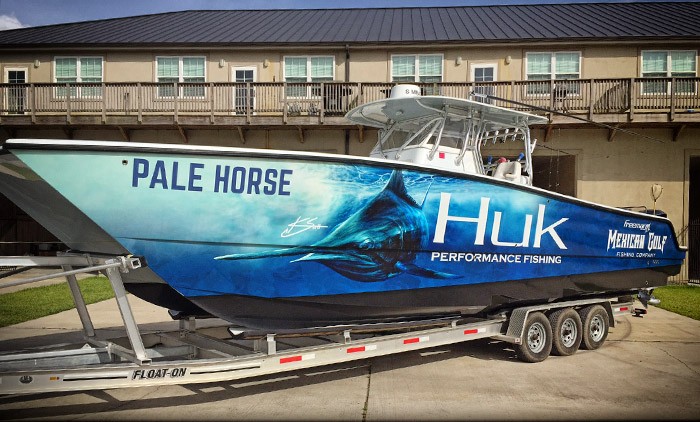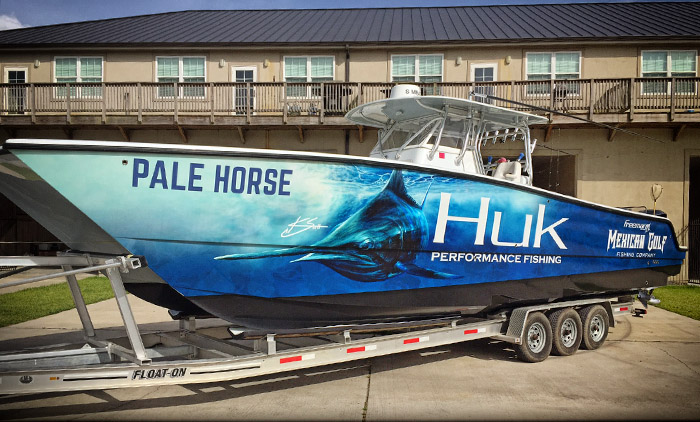 Huk Gear made a big splash into Louisiana recently when it signed on as a sponsor of the Mexican Gulf Fishing Company.
It's most visible entry includes full sidewall boat wraps on the f/v Pale Horse (captained by Kevin Beach), and the f/v Wild Bill (captained by Billy Wells and Colin Byrd). Both boats, 37-foot Freeman Boatworks catamarans, we're emblazoned with Huk's camo background, offshore game fish illustrations, and branding marks for Huk, MGFC and Freeman.
Drew Herma, of Huk Gear / Marolina, says, "the thing about Huk is that we design clothing for anglers by anglers. Whether it's fly fishing in Montana or being out on the Gulf with the Captains at MGFC, Huk wants to be where fishermen are. Everyone within Huk is part of the fishing community. All of our team is passionate about fishing. We built a brand of high performance outdoor gear, designed specifically for the needs of the fishing community."
Huk has managed to turn clothing into gear. Its line of high performance, anti microbial, moisture wicking and stain resistant clothing is soon to be a fisherman's best friend. It already is for MGFC.