Huk Gear Sponsors MGFC: Performance Gear Meets Offshore Fishing in Venice, Louisiana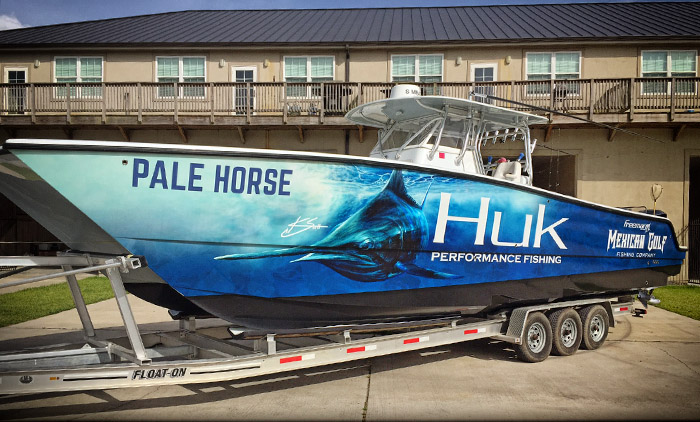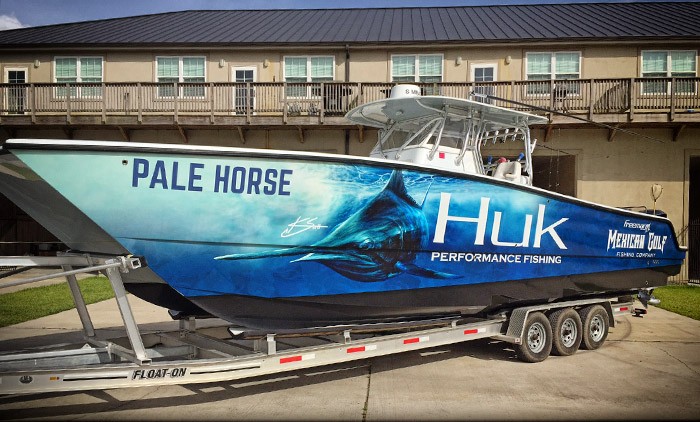 Huk Gear made a big splash into Louisiana recently when it signed on as a sponsor of the Mexican Gulf Fishing Company.
It's most visible entry includes full sidewall boat wraps on the f/v Pale Horse (captained by Kevin Beach), and the f/v Wild Bill (captained by Billy Wells and Colin Byrd). Both boats, 37-foot Freeman Boatworks catamarans, we're emblazoned with Huk's camo background, offshore game fish illustrations, and branding marks for Huk, MGFC and Freeman.
Drew Herma, of Huk Gear / Marolina, says, "the thing about Huk is that we design clothing for anglers by anglers. Whether it's fly fishing in Montana or being out on the Gulf with the Captains at MGFC, Huk wants to be where fishermen are. Everyone within Huk is part of the fishing community. All of our team is passionate about fishing. We built a brand of high performance outdoor gear, designed specifically for the needs of the fishing community."
Huk has managed to turn clothing into gear. Its line of high performance, anti microbial, moisture wicking and stain resistant clothing is soon to be a fisherman's best friend. It already is for MGFC.
"This is the best shirt I've ever worn," says Captain Kevin Beach. "I don't know the science behind it, I leave that to those guys over at Huk. It's simply the most comfortable, sweat wicking, ease of movement, sun protective shirt I've ever worn while fishing. I'm out here all day in the harsh sun and wind. Huk gear goes on every morning."
Huk Performance Fishing has a wide range of apparel and accessories aimed specifically at anglers. Increasingly seen all across the country on some of the nicest vessels and in many marinas, Huk produces gear that combines style with performance.
Shirts sport poly knit micro modal fabric, rain gear is water proof, not just water resistant, and the UV protection is better than sunscreen.
"Huk sun protective clothing is an essential piece of kit for anyone going out to fish in South Louisiana's climate," says Herma. "Our soft, cool, and comfortable fishing shirts are designed to feel great and to protect your skin."
Huk is headquartered in Charleston, SC, and it's gear is available nationwide. Find them online at HukGear.com
Make Huk Gear Part of Your Routine
Captain Billy Wells says he's been wearing Huk Gear every day for more than a year.
"I no longer have a favorite fishing shirt," says Billy. "I have about 40 favorite fishing shirts now that I've switched to Huk. These long sleeve Performance ICON shirts are the best I've ever owned."
Combine an ICON series shirt with a Huk cap and a face gaitor, for an unbeatable tandem to be fully protected from the sun.
"The way I look at it," says Wells, "The protection part is easy. Plenty of companies make protective shirts. Huk makes protective gear. Gear being the key word. Gear that feels great, stays cool, and looks good, too. Huk wins hand down."
In addition to the ICON series shirts, Huk also makes caps, visors, gaitors, board shorts, polos, hoodies, Hybrid Lite pants, and Huk All Weather Jackets with welded zippers, taped seams, and internal neoprene storm cuffs.
The pants, like the shirts, use quick drying technology. Same goes for the board shorts. Many anglers after switching to Huk for the first time, have been hear saying, "I sometimes have to look down and check if I'm wearing anything at all. The clothing is so comfortable it's like it's not even there."
When asked why Huk chose to sponsor MGFC, Herma says, "We're a performance brand, and we're 100% about anglers. The MGFC is an offshore charter company, and they're 100% about anglers. It's a good partnership between Huk and The MGFC."
When asked "Why Huk?" Herma says, "Because clothes make a big difference. You choose rods, reels, hooks, fishing line all for a reason. You should choose your fishing apparel for a reason too."
Reasons are: flexibility, sun protection, dryness and durability. Whether you need a cool and comfortable shirt for the summer or a heavy duty pair of bibs in rough weather, Huk has the performance apparel you need.
Huk designs gear for men and women; you can even find items with your favorite fish on them.
The MGFC found apparel with some of it's favorite fish. Boat apparel, that is. Just take a look at the boats. Today, the Pale Horse features a Huk-wrapped  blue marlin, and the Wild Bill sports a Huk wrap with yellowfin tuna on it.
What's next: boat wraps coming soon for the f/v Sweat Shop and the f/v ShockWave. Follow this blog for more info and gear reviews from MGFC captains about specific items in the Huk Gear line.