Mexican Gulf Fishing attends Dallas Safari Club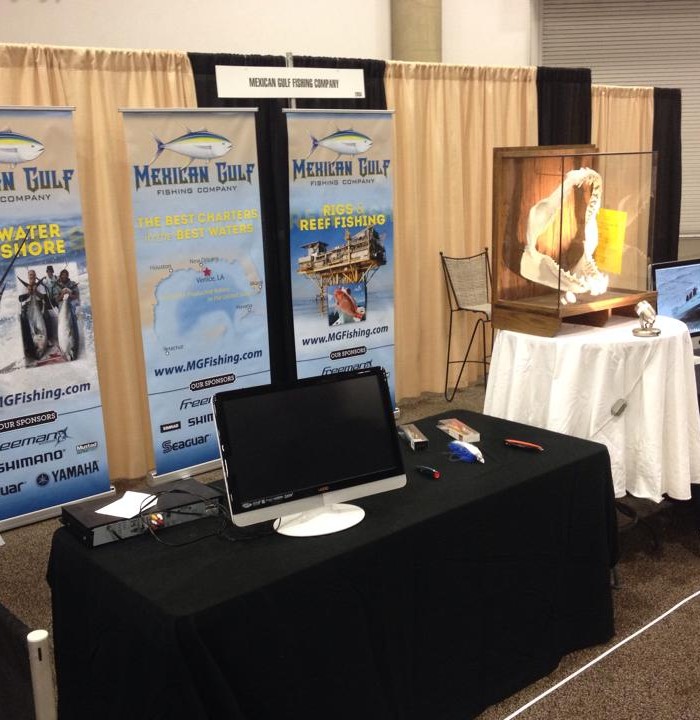 The world is filled with good fishing grounds, but we setup our booth at the Dallas Safari Club Show to educate anglers and outdoorsmen on the best blue water fishing in the United States: Venice, LA on a trip with Mexican Gulf Fishing Co. (MGFC). 
The Dallas Safari Club is a conservation and outdoors group that has doubled its membership in recent years. The convention, sort of a "big game" itself, is held at the Dallas Convenition Center. This year, it featured a 9 football field long exhibit space, packed with more than 3 miles of aisles showcasing charter fishing companies, hunting outfitters and lodges from around the world.
MGFC is pleased to have a booth at this event. It puts us in front of avid anglers and outdoorsmen, and it gives us the ability to see what's on offer among top outfitters from every corner of the globe. "Proud to say we hold our own," said Capt. Kevin Beach, of MGFC. "We've been going to Dallas Safari Club for a few years now, first as attendees, and now as exhibitors for Mexican Gulf Fishing.
"We have a booth where we meet with potential charter clients, and tell them about the fantastic fishing we have in Venice, Louisiana."
Two things strike most attendees to DSC when they encounter MGFC. First is, they're surprised to learn great blue water fishing can be had so close to home, and second, they're surprised to learn MGFC is based in Louisiana.
"We're called Mexican Gulf because that's our backyard," says Capt. Beach. "Venice is at the foot of Louisiana, and that strip of land at the bottom of our boot on the map, means that we're basically as close as you can get to deep blue water in the Southern U.S."
The advantage is one many charter clients don't think of when looking to book trips. But location is a prime reason for success when going out of Venice, as opposed to chartering a vessel from Texas shores, or those in Alabama, Mississippi and Florida. Charter trips from those other locations have to run hundreds of miles to access deep, blue water, but MGFC's boats get to the open blue water in a much shorter time. 
How short? How bout DFW to open water, in under three hours? This includes the flight and airport transfer!
The DSC event attracts more than 40,000 visitors. It features big game hunting outfits, lodges, offshore and inland charter fishing companies. Many of these vendors tout trips and packages in excess of $20,000, but MGFC can put together a charter trip starting at $1,500 + fuel and lodging.
For all those who came by to say hi at this year's event, … thanks for stopping in. For those of you who haven't attended yet, check out DSC in 2015.
When you're ready to book a blue water trip in the Gulf of Mexico, be sure to call MGFC. Our four, fast Freeman catamarans are ready to take you and your buddies on the open water fishing adventure of a lifetime.