Yellowfin Tuna Fishing Charters in Louisiana – MGFC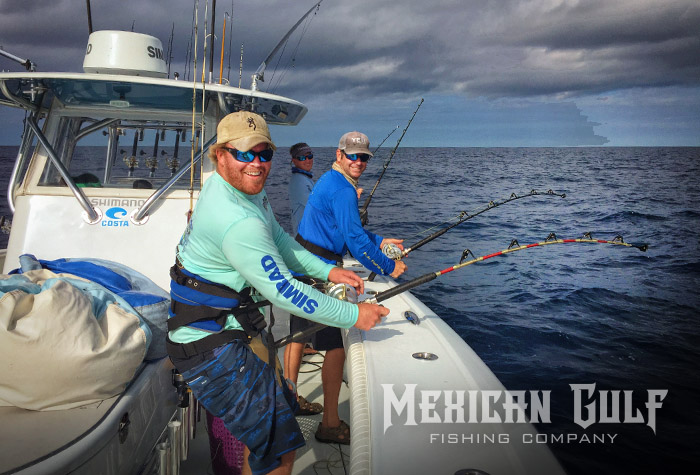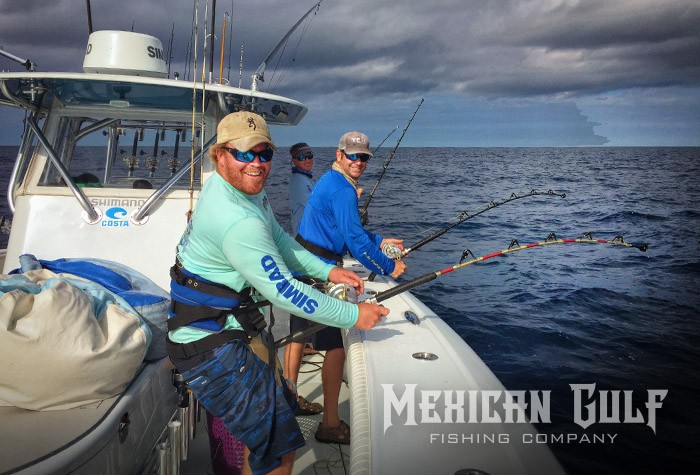 Do you realize yellowfin tuna fishing charters in Louisiana are a year round thing out of Venice, LA? You've heard that MGFC is the charter company to book when you want to catch big yellowfin tuna in Louisiana, but did you know  you can catch yellowfin tuna whether it's January-February, or April through June?
In fact, some of the biggest fish move into northern gulf waters in winter months. Making yellowfin tuna fishing charters an ideal gift to give this Christmas and holiday season. Yellowfin tuna fishing charters in Louisiana with the MGFC — is a year-round thing.
Fish with MGFC from December through March. You won't work on your tan, but you will work on your quads, your biceps, and your beer drinking, too! This is the time of year for big fish. This is the time of year for legendary yellowfin tuna fishing charters in Louisiana. And, we've got boats ready for you. The Pale Horse, The Wild Bill, The ShockWave, and Contagious.
Capt. Billy Wells and Colin Byrd have nailed it all summer, and they've brought in some nice sized fish in recent weeks despite a string of prolonged, nasty weather. Capt. Kevin Beach keeps doing his thing, which we all know means fishing like a mad man, acting like gonzo, and keeping everyone on board hanging on his every word. Capt. Jordan Ellis keeps putting his charter groups on large quantities of yellowfin tuna, but he never goes more than a few days without also targeting swordfish, and he can't wait to get into some wahoo fishing, too.
Capt. Zach Lewis, the newest member of MGFC's yellowfin tuna fishing charters wrapped his first full summer with us, and let's just say "we learned a thing or two about Capt. Zach." One, he's full throttle and determined as all get out. Two, he loves putting customers on yellowfin tuna, and three — he's got a few tricks up his sleeve that impressed us — and we've been doing this full-time for 20+ years.
Book Yellowfin Tuna Fishing Charters in Louisiana; Fish with MGFC
Have you been talking about taking a yellowfin tuna fishing charter? Have you always wanted to go fishing with The MGFC? Well, now we've made it even easier to do so. We've got online booking for you, and we'll be adding a few features to the website in 2016. Book online directly at mgfishing.com
What can you expect on your offshore charter trip with MGFC? You can expect a helluva good time, fishing with experienced captains, all expert guides who are mindful of your fishing wish list, and respectful of these beautiful gulf waters and the species you want to target.
You can expect a full day of fishing, and an epic adventure in North America's most productive sport fishery — a place of sublime beauty tucked away from it all at the southern tip of Louisiana, but just an hour's drive south of New Orleans.
Accessible as a day trip, ideal as a two-fer where you target yellowfin tuna one day, and several other species the next. Or, do what so many of our charter groups do — book two boats and experience an offshore yellowfin tuna fishing charter with one captain one day, and another of our fine captains on day two. Throw in an inshore trip with our friends at Cajun Fishing Adventures, and you'll experience the full range of fishing in South Louisiana. All for less than the cost of an international trip, which many people book when they think big game fishing.
But why? There's no need. Fish with MGFC from Venice Louisiana and target yellowfin tuna, marlin, swordfish, wahoo, pelagic sharks, reef fish and more.
Fishing for yellowfin tuna is our specialty, and it's a craft we've honed for many years. Each of the five captains at MGFC all have experience with some of the largest fish — we're talking yellowfin tuna approaching 200 pounds — sometimes even more.
Capt. Colin Byrd and Jordan Ellis are particularly fond of targeting the biggest yellowfin and wahoo in these colder months. Capt. Zach Lewis thrives on a challenge, and loves showing non-stop action to his charter groups, and founding captains, Billy Wells and Kevin Beach, are both known for their uncanny ability to bring their charters home with the catch they want — as if precision and fun are just two parts of the game.
What to Expect on Yellowfin Tuna Fishing Charters in Louisiana with The MGFC
A full day offshore (up to 10 hours)
Experienced captains
Expert crew
Fun times
Friendly atmosphere
Lifelong memories
and, Huk Gear — don't forget about the Huk gear. How could you because from all we are hearing, … the word is: "everybody wants some."
All MGFC captains and crew are sponsored by Huk Gear, and we strive to keep a supply of MGFC branded Huk shirts in stock. Take heed, these puppies go fast — very fast. Be sure to ask for them when booking your next trip. Our shirts feature Huk's famed moisture transporting technology and style, with MGFC's brand mark on the front, an MGFC illustration on the back, and in the latest Huk Kryptek designs.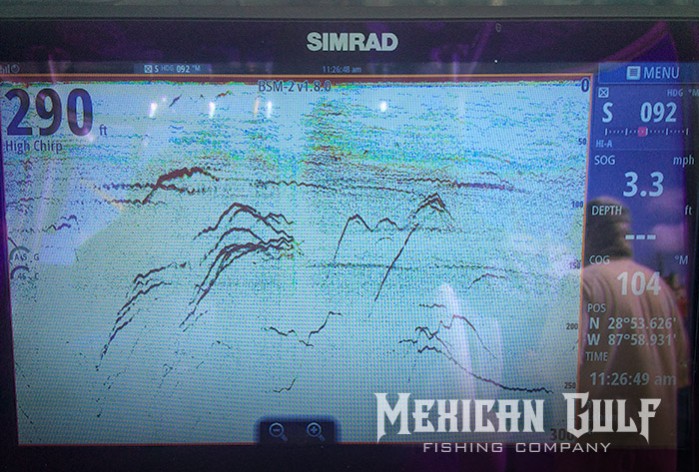 Some other items of note: Fishing with The MGFC is first about fun, and second about landing the big fish. We have respect for everyone who boards our boats, and we want to express the value of us meeting on charters but leaving as friends. Second this is about adventure, but not without safety. MGFC prides itself on owning the best boats and top notch gear. Everything on our vessels is in top shape. Everything with regards to safety is top of mind.
And finally, … it's about you. What do you want? What do you want to catch? What do you want to learn from our guides? We're here to help you find the fish you won't find on your own, to target species you can't catch as a weekend warrior, or from a bay boat. We're here to help you learn more about this vast wild and great fishery at the southern edge of the USA — where warm water brings broad smiles, and where friends make memories that last lifetimes.
Book your group on a yellowfin tuna fishing charter in Louisiana with MGFC. Ask us about other species, too. Tell us you wanna go after a blue marlin, tell us your kids want nothing more than to frolic in the sunshine landing loads of chicken dolphin. Tell us you've never seen a swordfish in person, and you're just dying to catch one. From amberjack to wahoo — we're the charter fishing company you've been hearing about. We want to be the charter fishing company for you.
This slideshow requires JavaScript.