37ft Freeman has Arrived: See the Pale Horse in it's Latest Iteration — a 37ft Freeman Masterpiece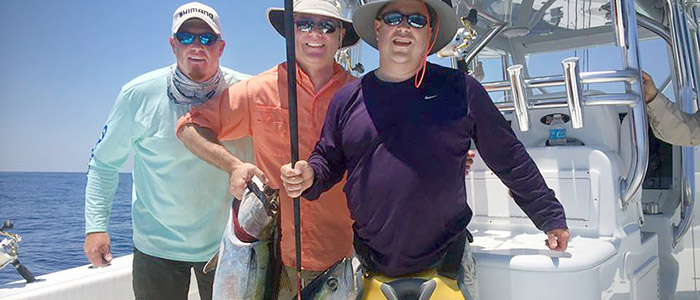 Thank you Freeman Boatworks! That's all I can say.
Well, actually, there's a lot more I could say about this boat like:
it's a game changer
it's the best boat i've ever owned
it's fast, roomy, and purpose built for blue water fishing
you're gonna love it
MGFC is now officially running the Pale Horse as a 37-ft catamaran designed and built by Freeman Boatworks. The 37ft Freeman is now in Venice, LA.
"The 37-foot Freemans use our state of the art Vented Hull technology ," says Billy Freeman. "This boat sets the new standard for offshore fishing in terms of speed, comfort, and fish-ability for boats 36 to 40 feet."
"The huge cockpit provides excessive room for a team of fisherman to bring in a tournament winning catch and fuel economy dominates boats in its class."
Freeman met with Mexican Gulf and many of it's other customers at this year's Boat Show in Miami where the company showcased it's lineup.
Captain Kevin Beach is proud to run a Freeman, and is excited to keep the tradition of the Pale Horse alive and kicking on the open, blue waters in the Gulf of Mexico.
"Working with Freeman is fantastic," says Beach. "They simply build the best offshore boats money can buy. I've been around boats all my life. I've ridden in all makes from dozens of manufacturers. When I tell you this is where it's at — this is where it's at."
MGFC runs Freemans for it's entire fleet. Next up in the 37-foot class, will be The Wild Bill, that's the boat Capt. Billy Wells runs. Others in our lineup include, the ShockWave, a special, one-of-a-kind Freeman Boatworks design at the 40-ft length, and The Sweat Shop, run by Capt. Travis Mayeux, a 33-ft class Freeman. Capt. Jordan Ellis runs the ShockWave.
Freeman Boatworks is a sponsor of MGFC.
Look for more photos, video and a complete report on some of our first trips with the new 37-foot boats in the weeks ahead. We'll post to the Blog on our website.
Want to experience the thrill of catching fish from a 37-ft Freeman? Contact Kevin Beach to book your trip in this awesome vessel.
Below, … enjoying some family time on the new Pale Horse, in Venice, LA.