Mayeux Adds to MGFC Lore with Tuna and Dolphin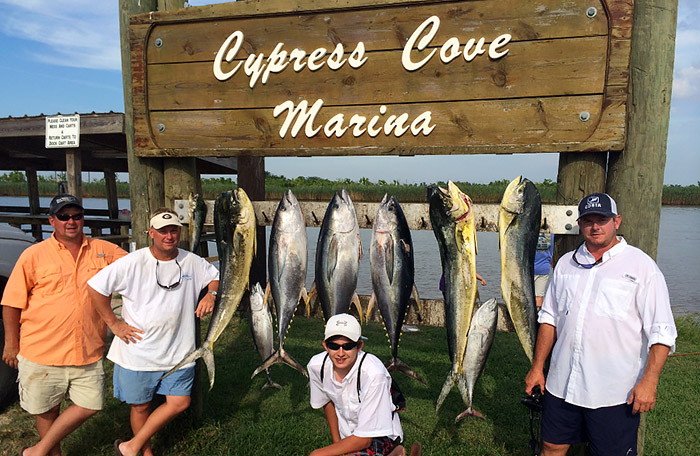 Capt. Travis Mayeux, running the Sweat Shop for the Mexican Gulf Fishing Company, had another good weekend in his first summer as a captain with the offshore charter company based in Venice, LA.
On back to back days he put customers on big hauls. Not uncommon, for talented charter captains, mind you, and certainly more to the norm for MGFC, but to say this was fun is an understatement, as evidence by the photos attached with this story.
On Saturday, Mayeux's boat already had four yellowfin tuna when they had pulled up to their second spot.
The boat doubled up again, and then landed a third tuna that acted as if someone or something from the deep had pissed in it's cheerios. While a customer was fighting that fish, tuna just kept following the boat. What happened next? Well, let's just say it was fun.
Using Mustad Perfect Circle hooks at the end of Seaguar fluorocarbon lines, they managed to hook and land three more tuna while fighting that one gnarly monster, which of course, they put into the boat, too.
All told, the Sweat Shop returned to the dock with 11 tuna, and everyone had smiles on their faces. Smiles you could see, even through those Mexican wrestler masks.
More Tuna and Some Dolphin for Good Measure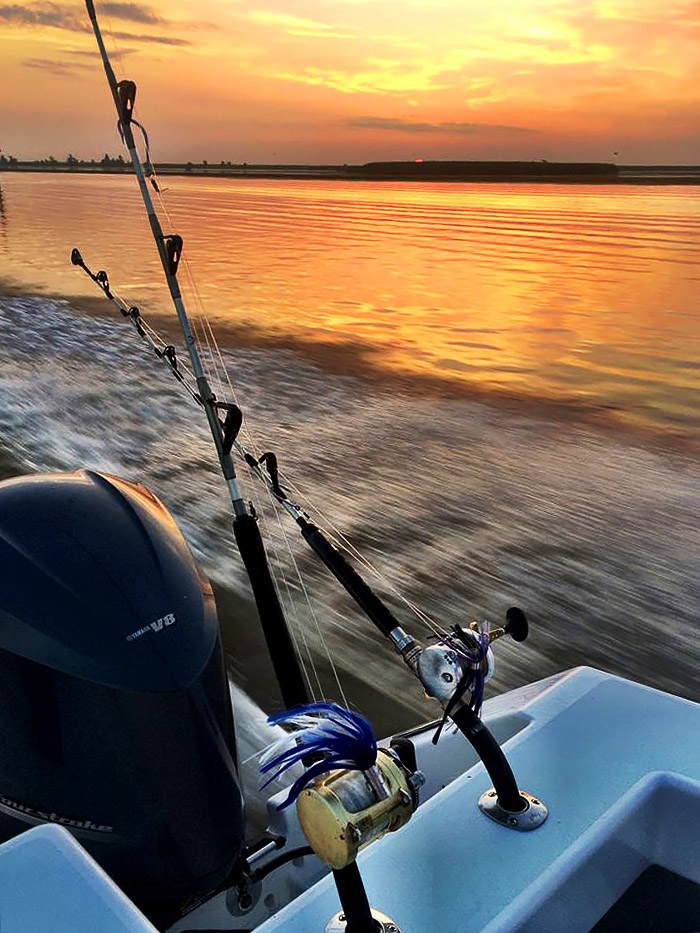 On his next outing Mayeux's charter wanted to go for yellowfin and dolphin. They hooked a nice 100+lb tuna, and then lit into the mahi mahhi

This trip consisted of a half dozen tuna, a few cow dolphin and they threw in some chicken dolphin for good measure. Capt. Travis made this image on the ride back in. Somehow sunsets look more grand and the beer tastes better on days like this. On that, all fishermen agree.i strong.
Use this form to book a trip with Capt. Travis Mayeux. He's the newest captain in our fleet, but he's reputation is growing fast.
Give us a shout, and tell us what your ideal fishing trip is all about. We'll check the calendar and let ya know what dates are available — late summer and fall, with Captains Travis, Billy, Jordan and Kevin.
This slideshow requires JavaScript.