Landing a 141 lb. Yellowfin Tuna is Family Affair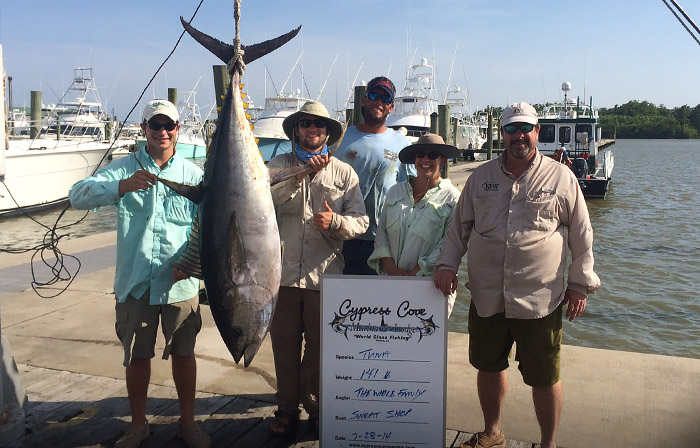 Captain Travis Mayeux, on board the F/V Sweat Shop, helped a family have a great day fishing for yellowfin tuna out of Venice, LA.
The Sweat Shop was out on a beautiful day.
Louisiana summers are known for their heat, but the weather has been fantastic lately, bright sun, calm winds, cool breezes and plenty of bait which means plenty of nice sized fish.
This charter already had landed 50 lb.  and 90 lb. yellowfin, when they hooked a very nice sized fish.
The whole family got involved, and in just under one hour, they put a 141 lb. yellowfin into the boat.
Shown in the photos here are boys Alex and Ben, and mom and dad, Mrs. Chris and Mr. Tres. Look at the smiles on these faces. This is what family day on the water is all about. This is the goal for every MGFC charter trip.
And, … look at the beautiful Shimano Terez rods with Talica 25s bent over while these guys were doubled up on the tuna. It's great gear like that, including the AFTCO belts that help even die hard couch potatoes reel in big fish. We outfit all our boats with Shimano and AFTCO gear to make the trip more enjoyable for you.
This slideshow requires JavaScript.