Billy Wells uses Mustad Circle Hooks to land Big Tarpon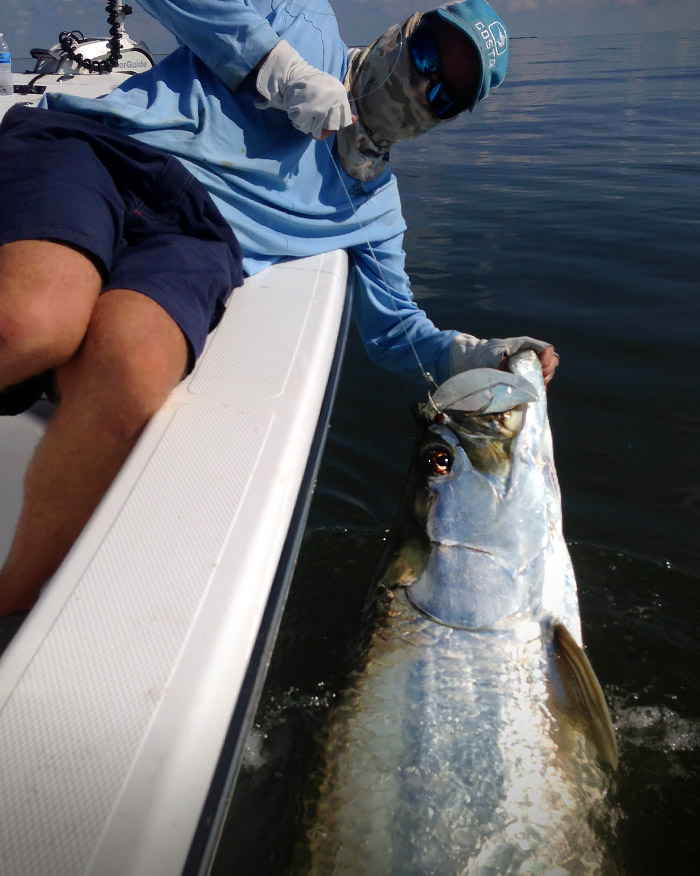 Capt. Billy Wells and the f/v Wild Bill, landed some nice tarpon recently near South Pass in the Gulf of Mexico. He landed, three, as a matter of fact, and it's a good tarpon tale, for all anglers keen on fishing for silver kings.
On a slick calm day, with water like a mirrored surface, Capt. Billy and a customer set out for a charter. Freeman Boat? Check. Shimano Rods & reels? Check. Simrad electronics? Check.
Mustad circle hooks (more on this later)? Check.
The sole purpose of the trip was to fight tarpon. They had to run around a bit to find them, but when they did, the game was on.
"We had really smooth, calm water," says Billy. "When the surface is like glass, it makes it real easy to spot them rolling near the top of the water, and that makes it easier to stay on top of them."
Tarpon were abundant this day. "Thick," says Billy. "Thick and a whole lotta fun." He and his customer went 3-for-4, on a morning trip. The Wild Bill was back at the dock by 10am.
When asked what he attributes that success to, Capt. Billy said two words, "Mustad hooks."
Mustad Circle Hooks
"These things are awesome. They latch on and just don't let go."
MGFC uses Mustad Circle hooks on all its vessels. In this case, it was a Mustad 10/0 Perfect Circle hook. Endorsed by the Billfish Foundation, and commonly used for tuna, the Mustad 10/0 is also ideal for tarpon.
Everyone knows tarpon put on a show. Tarpon shake their heads violently and jump ferociously. Traditional J hooks can't really do the job. They straighten, break or come dislodged from the tarpon's bony jaws.
But Mustad circle hooks, work differently. The Mustad hooks catch and hold in the corner of a tarpon's mouth. Once it starts with its acrobatic routine, the circle hook does its job, and in most cases, that tarpon is on its way towards an angler for another pretty picture.
Says Billy, "That Mustad hook has the perfect gap and shank length to get around a tarpons big jaw bone."
On this day, Billy and his buddy had four tarpon thrashing and somersaulting right before them. Landing 3 of the 4, Billy says was plenty satisfaction. "All these fish were in the 80-130 lb range," he says. "We spotted them easily, and they came on strong. We had good fights. You knew we would. Tarpon are notorious for jumping off hooks, but not with Mustad Circle hooks. Mustad keeps fish buttoned down, and we got three of them to the boat."
Outfitted with Shimano rods and reels and Mustad Circle hooks, Billy and his charter gleefully battled the silver kings, and have some nice photos and fond memories of a perfect day on calm, September water.
Tarpon are opportunistic swimmers, and they make their presence known each year as summer turns to fall. The fish can be found in shallow waters, bays and inlets, but they'll stretch for miles across the water swimming in schools. Scan the horizon and keep a keen eye open for a flash of white and gold. It's a tickle of a glance, because you know something fun is good and near.
MGFC fishes for tarpon and other large game species. Have you caught a tarpon yet? If so, you know what it means to "bow to the king." If not, give us a call. Let's book a charter trip for tarpon fishing in Louisiana.
Tarpon facts
found in summer months
most often in 75 – 150 feet of water
average size is 50 – 75 pounds
but, common to 150 – 200
oldest U.S. fish rodeo named for tarpon
are caught trolling and sight casting