An Epic Day: Marlin, Sailfish and Yellowfin Galore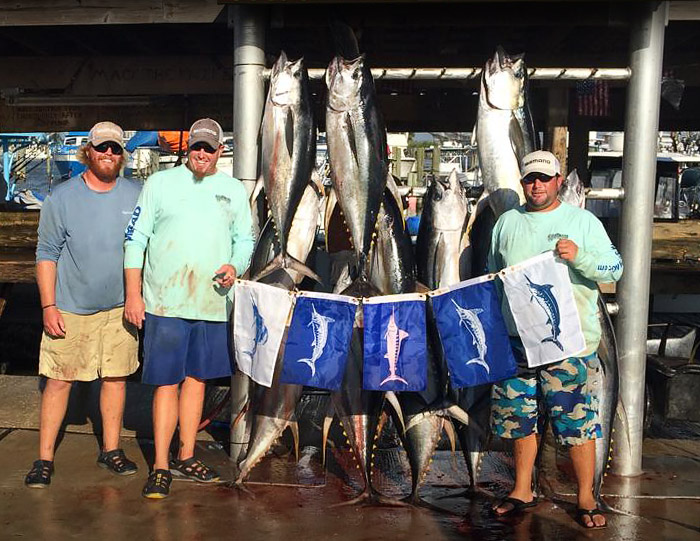 Captain Kevin Beach and his new BFFs, ventured out from Venice Marina around 6am on Monday morning. This trip, more than two years in the making, was expected to be memorable, but no one could've forecast the way it turned out.
Team Lucky Bastard, three friends from South Dakota, originally booked an offshore charter with MGFC more than two years ago, they had to cancel due to bad weather? Bad weather here, not in the Dakota's mind you. But, stay with me, because this isn't a bad weather tale.
Like any dedicated sport angler, meh. Weather happens, "Let's reschedule for next year," they said. And so they did, … only to be thwarted once again by mother nature. Grrrr.
Folklore, myth and legend dictates: Third Time's a Charm.
The boys at Team Lucky Bastard and Capt. Kevin Beach, for now, must surely agree. As the f/v Pale Horse set sail on a crisp Fall day , Team Lucky Bastard finally had it's trip. Capt. Kevin Beach finally got to meet this merry band of thrill seekers, and the word "epic" was aptly proclaimed from the shouts of many sport anglers in the Gulf of Mexico.
Beach put the guys on not one, not two, but six White Marlin. They landed three. Good deal, and "hey, nice shooting, Tex." But, that was for starters. Before the end of the day, the group landed a sailfish, a Blue Marlin and seven yellowfin tuna.
Now that's a fish tale. Somebody wake those guys up, and tell them the headaches and hangovers from all the celebration are subsided by now.
"It was awesome to be part of your GRAND SLAM yesterday Kevin," said Bob Hansen. "Thank you for the mother of all fishing trips!!!"
Team Lucky Bastard is Bob Hansen, Brook Benes and Leon Thielman. The guys, who twice drove cross country from the Badlands and straight into bad weather, finally made it to Venice, Louisiana. To return the favor, Venice and MGFC lived up to the billing. This was one for the books.
Each of the White Marlin came in around 70 pounds. The yellowfin all were in the 75 – 90 pound range, the sailfish was 50, and that Blue Marlin? Well it topped the day's charts at about 400.
"We caught every one of these fish on the same gear," says Beach. "That's part of what makes this so incredible."
MGFC uses Shimano Rods & Reels, Seaguar fluorocarbon, Mustad Perfect Circle hooks.
"We doubled up on the outriggers, then had a third white marlin hit a flat line," says Beach. "We lost that one almost immediately, and I sight cast right back at him. Hooked him up, so I've got all three guys on the boat with a White in their hands. I see another, and I cast out to him, too. We've now got four whites hooked up at the same time, and we brought three of those fish to the boat."
They battled that blue for more than an hour and a half, but had a helluva grand time. Topping it all off, for a Billfish Bonanza, was a sailfish, and then they got to thinking about those tuna.
All told, seven yellowfin, all of respectable size. Left the dock just after 6am, returned before 4pm. Travel distance? Less than 40 miles.