Billy Wells Lands Fat Tuna on Fast Trip from Venice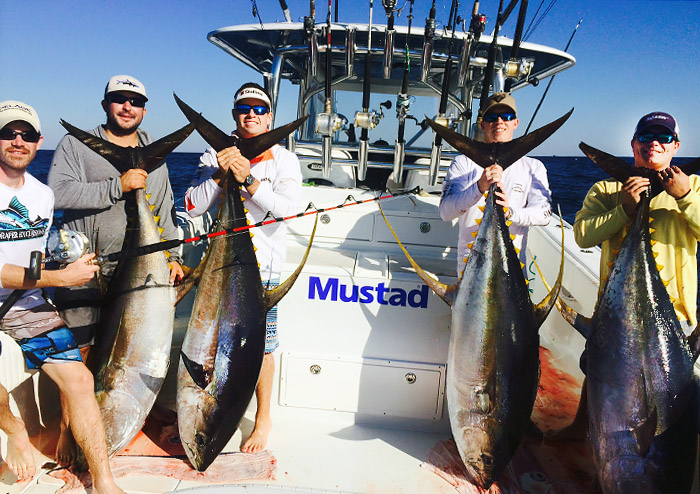 Captain Billy Wells and fellow MGFC Charter Captain, Jordan Ellis joined forces this week on a charter trip out of Venice Marina. Success came fast, and Billy says they can attribute that success directly to the gear used on MGFC's boats.
"The day was beautiful, but the wind and the seas were a bit rough," says Billy. "No problem though, we run Yamaha outboards on our Freeman Catamarans, we plowed through that chop like it was nothing, and had our customers on fish in record time."
What's record time? How bout a boat full of yellowfin tuna in under an hour!
Yellowfin Tuna! Lot's of tasty Yellowfin
Yes, five fat yellowfin tuna. In under an hour, … a fast trip.
Billy said the trip went off without a hitch, and that even though he's thankful every day for the companies that sponsor MGFC, and for the professional gear they use, he can't recall a day in which nearly every piece of gear they use played such key roll in helping them land big fish.
"We weren't even 30 miles offshore, and I'm running the boat at a fast clip," said Billy. "If it wasn't for my Costa del Mar prescription sunglasses, I'm telling you I would've missed it, but thanks to their lens technology I was able to sight a small group of frigate birds, and I caught a small splash from a single tuna while running the boat, in bright mid-morning sun, not a cloud in the sky, and while running at 50 mph."
Wells and Jordan spotted the frigate birds, and instinctively looked down and around. Billy caught a glimpse of a tuna making a subtle splash at the surface. They slowed the boat, and sight cast precisely to what was, perhaps a 10 lb. black fin tuna.
Surprise! Within seconds it was on the line, and a millisecond after that, a nice yellowfin tuna went after the blackfin, and was on the hook.
"We hadn't been stopped for one minute, and I've got the customers on a 180 lb. fish," said Billy. "We're using Shimano Terez rods, and Shimano Tallica reels. I know folks love coming to fish with us, in part, because of the great gear they get to play with, but Shimano outdid itself on this one."
Pro Gear Made for Prime Fishing Grounds
In an almost effortless battle, the charter group doubled up on two yellowfin tuna with their first casts of the morning. A short while later, they had a 50 lb. and a 180 lb. fish in the boat. Caught, says Billy — with no small thanks — to Shimano rods & reels, Seaguar fluorocarbon line, and Mustad 10 / 0 perfect circle hooks. This gear is ideal for sports anglers who aim to catch yellowfin and other pelagic game species.
"I use this stuff every day," says Billy, "and I'm still amazed at the precision engineering and craftsmanship that goes into these products. Without a doubt, the gear we use helps us to be better at our jobs. The catch we made today is all the proof you need."
It wasn't just tackle that helped this group catch their tuna. From the Costa sunglasses that gave them first sight, to the tackle that helped bring the tuna to the boat, just about every piece of gear or product played a roll.
Says Billy, "Yamaha had our backs by helping us course quickly through the water. Freeman Boatworks builds such great designs that our ride was comfortable. Simrad played a role because while I've got two customers doubled up on yellowfin, we had been fishing for literally only a few minutes, and wanted to catch bait. I put my attention on the Simrad monitor, and I can clearly see a bundle of bait fish swimming near us, Jordan and I sight cast to the spot of that electronic clump, and low/behold, we're pulling in all the bait we need."
Thirty minutes later, the group had all the tuna it could fit in the box. Yamaha's are powered back up, and the Wild Bill is headed for home.
The Wild Bill features three Yamaha 300s. They road in comfort for the short trip home, Wells at the helm, his customers comfy at the back of the boat on E-SeaRider bean bag chairs. Once back at Venice Marina, Billy and Jordan clean the fish. What's the final tally? Five yellowfin tuna on a quarter tank of gas. First bite was a 50 lb. yellowfin, second one was a 180 lb. beast, the group then tripled up, and brought three fish: a 124 lb., a 145 lb., and a 155 lb. to the boat.
To put it in other terms: 370 lbs. of yellowfin tuna loin ready to share with family and friends. From dock to ice, in under an hour. Not bad for a morning. Not a bad way to frolic in the sunshine. Leaving the rest of the day for important things, like tall tales and cold beer.