MGFC Loves E-SeaRider Bean Bags & Costa del Mar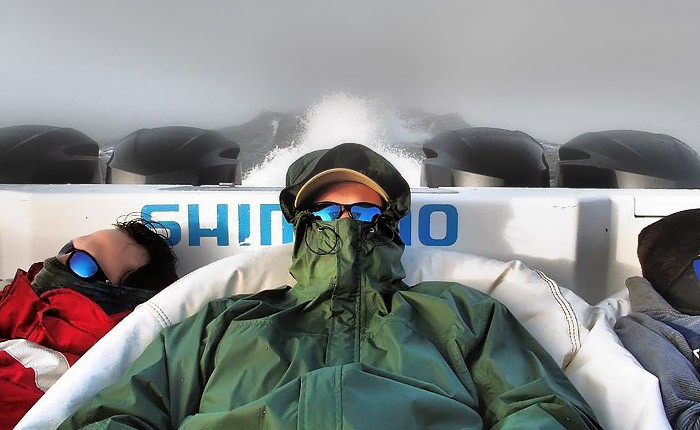 E-SeaRider Bean Bags & Costa del Mar Sunglasses: A shout out to two of our favorite sponsors. We just couldn't pass up posting this image (provided to us by Josh Friedman) from his recent trip with Capt. Jordan Ellis on the f/v ShockWave.
Look how cool and comfortable these guys are, with their tricked out shades in our plush E-SeaRider bean bag chairs.
On those fog days when you're running down a cold Mississippi River, nothing better than to lay back in an E-SeaRider bean bag and stay low from the wind. Slap on a pair of the latest sunglasses from Costa del Mar, and you can't help but look good, too.
All four boats at MGFC are outfitted with E-SeaRider marine bean bag chairs. Good for those times when you just wanna chill, when you want to lay low, or simply take a load off after a long day of hauling in trophy yellowfin tuna and monster big wahoo.
All four of our captains favor Costa del Mar. In fact, Costa is the one brand of glasses we see most often among our charter customers.
As Capt. Billy Wells says, "one of the most important tools I use on any given trip is the one I put on my head. Without a doubt, Costa is what I tell everyone to reach for if they're fishing offshore."
The blue lenses are made specifically for open water. Combine that lens color with expertly made frames, and high-end technology throughout the design and build process, and you're left with the best brand in precision sports eye ware. As the tagline says, "Beyond Polarized."
The clearest lenses on the planet.
Thanks for Costa del Mar and E-SeaRider, we appreciate your sponsorship of MGFC.
Thanks to Josh Friedman for sending us this cool photo taken aboard the ShockWave with Capt. Jordan Ellis. We know you have choices when it comes to your charter fishing adventures, and we're glad you choose to fish with MGFC. Can't wait to have you on board again next time.
Can you see yourself in that photo above? Book Now with MGFC. Check open dates, and be sure to send us your pics.