Yellowfin Tuna: Winter turns to Spring in Venice, LA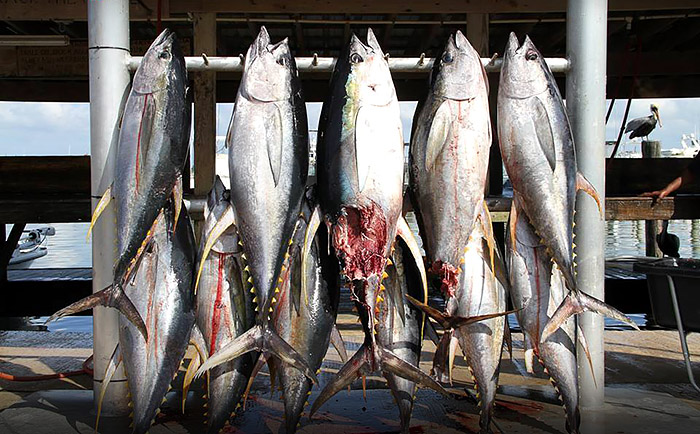 Yellowfin tuna can be found year round out of Venice, LA, but water temperature has a great deal to do with an abundance of the species. When the weather turns cool, the fish seem to be plentiful and hungry. Winter isn't kind to much of the USA, but, it's always pretty manageable down here.
In Venice — it's not Sunny and 80+ in January and February — but, we have good water conditions for yellowfin tuna, and air temps are pretty kind to us, too, considering the snow drifts in Boston, and the frigid cold in the Midwest.
Most of the fish that swim on top migrate to warmer waters in cold months, but not yellowfin tuna. These bad boys stick around, and they're big. Friggin nice and big.
Just ask Josh Friedman and his friends. They booked a February trip with Capt. Jordan Ellis on the ShockWave, a 40-ft Freeman BoatWorks catamaran run by MGFC.
The consensus fish report? "We're gonna need more Yeti's."
Says Capt. Jordan, "We had a grand time. Ya know, the water temperature can be kinda cold running down the river this time of year, but once you're out in the Gulf we see blue water, and the temps rise to a comfortable level. The fishing's been great."
Friedman and his group hauled in 11 yellowfin tuna.
Yell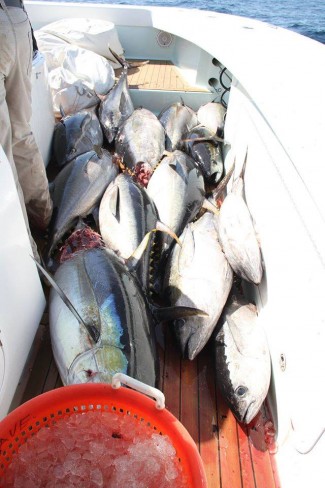 owfin tuna usually travel in schools; often they can be spotted feeding on the surface. Multiple strikes from a school of tuna are common, but it never fails to put smiles on faces.
As temps rise in the Gulf, the yellowfin tuna don't go away. The size of the tuna drops in Spring and Summer, but it really is a year round fishery for MGFC. Action right now is good, and we think it's going to be strong through March and April. We still have some open dates on each of our boats. Check the calendars and book online.
Looking further ahead? That's good, too. Fall is a great time for good tuna action — with October and November usually great and rewarding months, … and that leads right into the Winter where you will find these big boys such as the ones shown here.
Want to experience the thrill of a yellowfin tuna fishing charter from Venice, LA? Want to ride in complete comfort on the awesome and unique 40-ft ShockWave?
Check Jordan's calendar, and pick some dates. He's got days open in March and April. Temps will be perfect, and many species will be biting.