Golden Tilefish in the Gulf of Mexico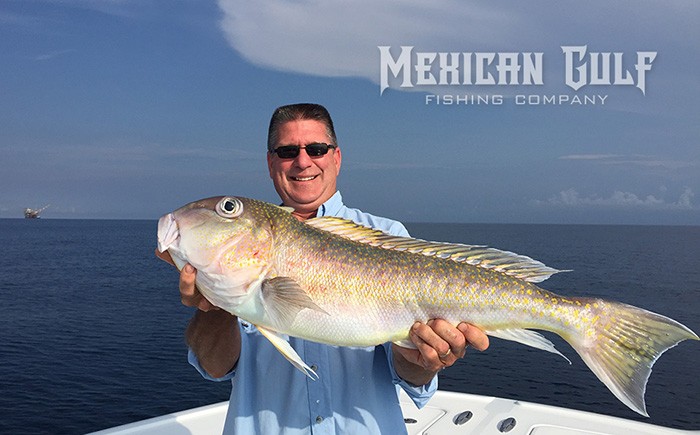 Golden Tilefish are caught throughout the Gulf of Mexico and in Atlantic waters, and the tilefish fishery off the coast of Venice, LA isn't much different from other places the species is found — meaning it's in deep water, it's in cold water, and the fish are funny looking creatures. Tasty, but funny looking creatures.
We get requests for golden tilefish from anglers in the know. Mostly, they're a curiosity because the fish are something different. We don't book charters solely for tilefish because they can be caught before or after targeting more common and action packed big game species, but they're always something interesting to add to a charter trip, and they're always in deep cold waters, usually around 600-700 feet, but sometimes 900 feet or below.
Captain Colin Byrd and Capt. Billy Wells had several charter groups asking for tilefish on recent trips. They're both happy to oblige, saying "you'll get a tasty fish to take home and serve up to your family. I'm all about catching some tilefish, so long as first, we target the tuna," (as he gives a wink and a nod).
Tilefish are one of our most beautiful fish. Their sides are aqua-blue with light green highlights, and their backs a blend of blue-yellow and blue-green. They have a reddish pink band that runs down each sides, which then blends into a silver-yellow belly. Golden, indeed they are, and the same accolades can be given for their taste — pure gold — tilefish is delectable.
Says Colin, "a weird looking fish with a great taste that is just about unmatched." Says Capt. Zach Lewis, "you won't find a better tasting fish in the sea."
Billy Wells says, "The great thing about catching tilefish is that it is something different. They taste great, and there is just something wild and primitive about the way they look. Tilefish take bait instantly when it's feeding time, you'll know you have one on, and then you'll be laboring to reel it up from 900 feet down."
Wells is just joking, well mostly, because tilefish at these depths are best caught with electric reels. The fish are targeted for their taste and for the unique experience of catching one of these denizens of the deep.
Golden Tilefish make great table fare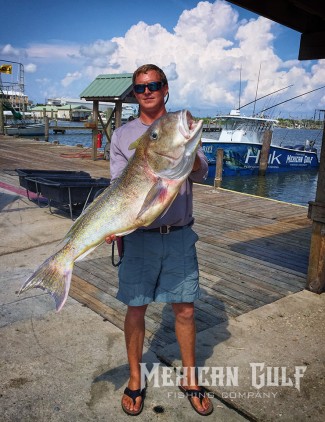 Golden tilefish flesh is snow-white with a fine flake. Some people compare the taste of tilefish to that of lobster or crab.  Indeed, much of the diet of tilefish consists of deep water crabs and other crustaceans.
They live in burrows on muddy bottoms, and in small cave like structures. Even though sunlight barely penetrates the depths at which golden tilefish swim, they only feed during daylight hours, and then usually between 10am – 3pm, and their movements are very slow and methodical.
Tilefish don't swim in schools. Rather, they live in groups, with sometimes only just a few fish. Anglers fishing for tilefish catch only a handful of other species at these same depths. Most commonly a few different species of grouper. Snowy grouper to be precise, to which tilefish has a similar taste and texture.
As for size, you're most likely to see fish in the range of 10-20 lbs, though we've seen them grow up to 30 pounds, with an occasional 40 lb. linker (or, … is that lurker for something that swims in this dark and deep a body of water?).
Byrd says you can catch tilefish in the Gulf of Mexico off the coast of Venice year round, but admits winter and spring are the best times to target the species. Wells says success is less about hitting specific spots, and more about fishing in the right kinds of bottoms. "We start in about 600 feet of water, and then covering ground if we don't produce bites, we'll go progressively deeper until we find them."
Strong rods and durable reels are a must for fishing in deep water, and the MGFC always fishes with Seaguar fluorocarbon.
So, How Should you Cook Golden Tilefish
As mentioned above, golden tilefish make excellent table fare. So, … how exactly should you cook it?
Tilefish taste great baked, broiled, and grilled (though, their flake is delicate so be careful). We also like to marinate them whole, in steaks or in chunks, and a friend of ours who spends too much time in his kitchen is known to take left overs and make a mock court-bouillon.
The general rule is about 8 minutes per inch of thickness, at the thickest part of the fillet or steak. 400-425 degrees F. in the oven.
If cooked in parchment, foil or a sauce, add a few minutes to the total cooking time.
Fillets less than 1/2 inch thick do not need to be turned during cooking.
Golden tilefish cooks quickly. And it loses its delicacy if cooked too long. Do not overcook.
Sear it with some cajun seasoning or rub with a chili-lime paste, add a pat of butter, and fresh ground pepper to grill or broil. Be sure to oil the grill to prevent tilefish from sticking.
You can bake golden tilefish whole, and it's even better with a crab or shrimp stuffing.
Whatever method you use be mindful that the delicate and delectable flavor is what you're after. Don't season it too heavily, and above all, don't cook it too long. What's your favorite tilefish recipe? And, … when's the last time you caught a golden tilefish? Do you want to experience the deep waters where tilefish fish live, and add something unique to your next offshore charter? Ask our captains about golden tilefish on your next fishing adventure with The MGFC.
And when you catch one, send in the pic. We'll post it online.