Tuna Fishing Venice, LA: Winter Tuna Fishing Rocks!
Winter tuna fishing in Venice, La., brings us big tuna and the best wahoo fishing of the year. It tends to be a little rougher this time of year but the good news is we don't have to travel as far to get them. MGFC generally trolls for wahoo and chunks for tuna. As a bonus, there are usually plenty big blackfin tuna and amberjacks to be had in the same areas — so your charter group can ask us to target a variety of species, and you'll head home with plenty of delicious meat for your friends and family. Remember, … yellowfin tuna tastes best fresh — right from the Gulf of Mexico.
Tuna Fishing Venice, LA: MGFC offers tuna fishing charters from Venice, LA year-round. None of us captains are fans of the cold weather, but we love us some cold weather fishing because the big yellowfin tuna generally come closer in, and the cold weather really only hits our rides up and down the Mississippi River — once in the warm waters of the Gulf of Mexico — things warm up a bit, and life is good.
Oh so good. Tuna fishing Venice is Tuna fishing, period. Yellowfin tuna, blackfin tuna, with a full fishery, and a variety of styles and technique. Come down in the winter time (December – March), and you're bound to see some big tuna, you'll also be treated to the best wahoo fishing of the year, and there are plenty of amberjack at our doorsteps, too.
Whether trolling or rig fishing MGFC captains know the spots where fish will be plentiful throughout the water column.
Targeting Yellowfin: Tuna Fishing Venice, LA
"With chunking we cut bait fish into chunks that are proportionate to the yellowfin we want to catch," says Capt. Zach Lewis of the f/v Contagious. "Giving tuna the right size snacks for them to chomp down on and bite." All MGFC captains fish strictly with Mustad's Demon Perfect Circle hooks — in sizes 7/0, 8/0, 9/0 and 10/0 on 60-pound Seaguar fluorocarbon leader, and in every hook MGFC captains and crew know exactly where to "hide" the hardware, rigging you up with a great bait — that proves irresistible to the yellowfin tuna.
"We use Shimano rods and reels, Mustad Demon Perfect Circle hooks, and Seaguar Fluorocarbon leaders," says Capt. Zach. "We want you to catch fish. We want you to catch big yellowfin tuna when you come to fish with us out of Venice, and we know using the best gear takes one more element out of the equation. Simple as that: when you fish with MGFC — you're fishing with the best gear on the planet."
Add years of experience and deep respect for the bountiful waters of the Northern Gulf of Mexico, and you've got a nice prescription for a successful offshore, blue water fishing day when it comes to tuna fishing in Venice, LA.
First Yellowfin of 2016 at Venice Marina
Read this to hear about the first yellowfin tuna of 2016 brought into Venice Marina. As told, by Matthew Bradshaw out of Hahira, GA.
"January 11th started out cold for the ADB Hoist Ring crew from Valdosta Georgia and ACE Industries crew from Norcross Georgia. The high water on the Mississippi River made us run to about 3,000ft of water. But after only a few minutes of being at one of Jordan's honey holes (Captain Jordan Ellis on the f/v ShockWave), lines started going off.
"Several doubles as soon as we got there. A rather large Marlin decided that he wanted one of my smaller yellowfin's and damn near spooled me. Never did get a chance to turn him.
"Nothing but praise for Jordan and Colin were awesome. And the 40ft Freeman is a beast.  Jordan did tell us that we did catch the first tuna for the 2016 season for Venice Marine. We are looking forward to our next trip in April."
Thanks for everything.
Matthew Bradshaw
Hahira, GA.
Bradshaw and his buddies fished in the second week of January out of Venice Marina with Capt. Jordan Ellis and Capt. Colin Byrd. Booking two boats, and engaging in some friendly wagers for bragging rights is the way to do it — keeping things focused, and making the fish tales even taller once we return to the dock.
Bradshaw and his group had a successful day fishing with MGFC. They targeted yellowfin tuna from Venice, LA, and returned "Mission Accomplished." The wind was whipping, the temps were cold, we were forced to run further than we normally would during this time of year due to the high river, but as soon as we found blue water, we put our customers on a nice school of yellowfin tuna, and gave them bragging rights for bringing in the first yellowfin of the new year to Venice Marina.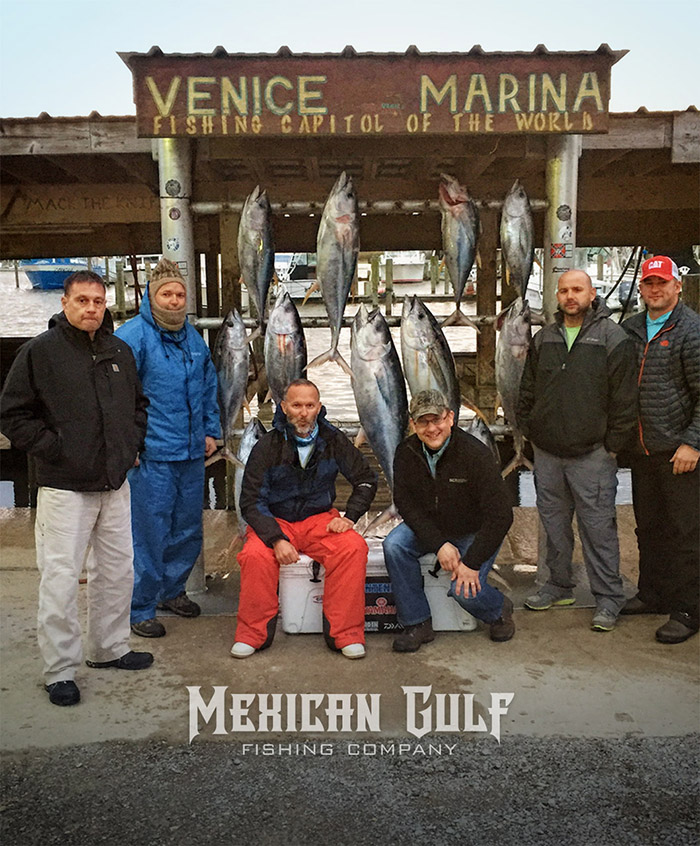 What to Expect: Tuna Fishing Venice, LA – MGFC
What: Offshore fishing for yellowfin tuna, blue and white marlin, wahoo, king mackerel, grouper, red snapper, amberjack and more. Troll fishing, lump fishing, and fishing around deep water Louisiana rigs
Rods: Exclusively Shimano. Terez conventional and spinning.
Reels: Exclusively Shimano. 30- to 50-pound reels rigged with mono or braid; high-quality spinning reels with strong drags capable of applying substantial pressure if jigging.
Lures and baits: Surface poppers, butterfly jigs, and swimming trolling lures. Plus, and a favorite — live baits, including Spanish mackerel and hardtails, along with some frozen fish for chunking.
Fluorocarbon: 60-to-80-pound fluorocarbon leader from Seaguar
Hooks: Mustad Demon Perfect Circle in 7/0, 8/0, 9/0 and 10/0. Plus Mustad treble hooks
Where: Northern Gulf of Mexico off Venice, LA. Fishing out of Venice Marina
When: Year-round. "One of the coolest things about the northern Gulf is that you can target big yellowfin tuna all year, every day" said Capt. Jordan. "We take customers from January to December — and nearly everyone of them wants us to put them on yellowfin tuna. What a thrill. We love it."
The Charter Company: Mexican Gulf Fishing Co. (The MGFC) — Captains Kevin Beach, Billy Wells, Jordan Ellis, Colin Byrd and Zach Lewis.
Booking: Book today, online at mgfishing.com/booking