Billy Wells Swordfish Action April & May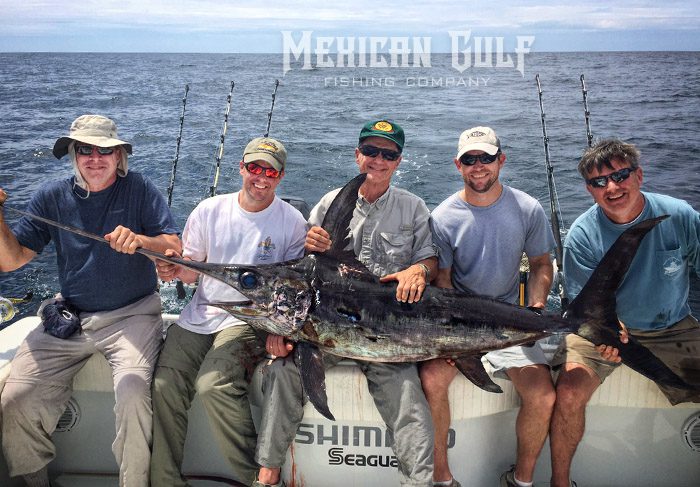 Captain Billy Wells is no stranger to long days on the Gulf of Mexico, and no stranger to the deft art of daytime swordfish action. This spring, his keen sense of timing and adventure was spot on. As usual, customers come down to Venice to fish with Capt. Billy and they almost always want to catch yellowfin tuna.
However, once the ice box is filled with six or seven, sometimes 12 or more tuna, most anglers agree — that's enough meat for our friends and family back home. Let's turn our attention to another species.
That is when Billy suggests swordfish. Day dropping for swordfish has become more popular in recent years. Billy Wells, and captains Kevin Beach and Jordan Ellis all share a hand in adding to it's popularity. The success these captains have had with yellowfin tuna is the stuff of legend, the success they've had with daytime swordfish drops is something to ponder and — for offshore charter customers — something to relish.
When going with MGFC for swordfish you witness the full set of skill, experience, and insider knowledge — gifts that come only from many days, nights, months and years on the same body of water.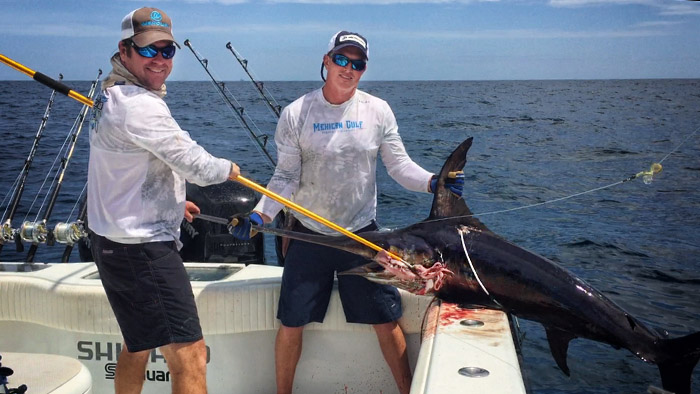 The allure of sliding a daytime swordfish on to the dock never gets old. Two things of note, though:
These fish are not as plentiful as yellowfin tuna
These suckers swim in 1,200+ feet of water during the day
And therein is the challenge. "While we can just about promise we'll put customers on tuna, we know we're going for a rare and worthwhile treat when we drop for swordfish," says Billy.
Daytime Swordfish Action Oh, so Special
Swordfish are an amazing pelagic species. These billfish are the sole members of their family. They're known to fight pissed off and stay angry until the last moment when the gaff goes into their bodies, and they simply do not give in. What's more? They're fantastic table fare. Bring swordfish home to your family, and they'll ask you to book another offshore charter so they can experience that delicate taste again.
Wells, Beach, and Ellis, along with Captains Colin Byrd, Zach Lewis, and Parker Rodrigue each have brought in daytime swordfish for customers at MGFC this spring. What's the secret?
"Patience. Patience and an eagerness to learn something from every trip," says Billy.
Fishing for swordfish is a unique and challenging endeavor. First, you've got to position the boat in the right water, and let it drift. Then, you've got to have a captain and crew that really knows what they're doing. Working the vessel, preparing the proper baits, and dropping that line just right, and with the right amount of metal on the end of it is art and skill combined.
"Look, we know this isn't a guaranteed thing," says Billy. "That's what makes it so special and so much fun. We drop with conventional rods, and with electrics depending on what our customers want. We usually go for swordfish when we've filled the boat early in the day with tuna or other targeted species. Dropping for swords doesn't give you the same action as going for schools of other fish, but once you hook into one — the fight can be dramatic and tiring. Reel one in for 30-40 minutes, and you'll have a big smile. Fight one for a couple of hours, and you'll have deep respect."
One key to fishing for swords in the daytime is bait presentation. Presentation is key to enticing a hungry sword. Swordfish have great eyesight. This makes bait presentation key, it also means you're gonna want to hug your fluorocarbon salesman if you do manage to bring one into the boat.
Their vision is the best of all billfish and perhaps all pelagic species. They can dectect bait in the deep by bioluminescence, and the same can be said of those lines, which is why MGFC captains strictly use Seaguar fluorocarbon. MGFC pairs Seaguar fluoro with Mustad Hooks, and Shimano rods and reels.
This slideshow requires JavaScript.
It is essential to fish at extreme depths when fishing for swords in the daytime. They rarely venture higher in the water column during the daylight hours, and they feed at lower depths only at night.
Ideally we stay just a hundred feet or so from the bottom depending on the total depth of the area we're in or the structure we're fishing around. Deep dropping requires a heavy weight — 10-15 lbs. on average — depending on currents and sub current. This is where captain and crew make it or break it because it's important to know exactly where your bait is in the water column at all times.
A trained eye is a result of vast experience, and experience is something you get once you've done this hundreds of times before. Wells and Captain Colin Byrd work in tandem and help anglers determine what may be a real pickup versus a random or erratic motion of the water.
"Keep in mind," says Billy. "This bait is more than 1,200 feet down. That's like reeling in a fish from the top of the Empire State Building. A rod bounce could be anything from a 40-50 lb fish to a 300lb behemoth. We help you concentrate on the rod tip, and we'll tell you when it's time to go for the hook."
Making a day drop for some swordfish action is a great way to put an exclamation point on an offshore fishing charter. The best months for swordfish action is Spring and Summer. Average weight is 80-120 lbs, though some females can reach a half ton, while the largest males of the species top out at just above 200. The Louisiana limit is two per boat.
Have you been dreaming of swordfish action? Get your trip together, and book one of our eight experienced captains. Everyone at MGFC has caught daytime swordfish, and we're all down for the challenge. Put this species on your "must catch" list, and book with MGFC to have an above average change of making that happen.