Live Bait has arrived: Yellowfin Tuna action is great out of Venice right now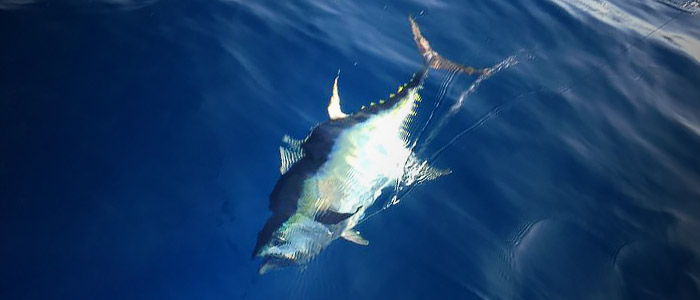 Venice, LA is known as the yellowfin tuna capital. Some things just don't change. But, when live bait shows up in February — 2 months earlier than normal — you just know we're in for a crazy good, fun summer with plenty of tuna action.We've had a steady stream of yellowfin since mid February, and all signs indicate the trend will continue.
On any given day, our first few drifts produce a good amount of blackfin tuna, then the yellowfin start biting. Thus far, we've had customers reel in plenty of fish in the 80 – 100 pound range, and a decent amount of tuna above 100, with a few at 150-plus. 
The action is hot, but the weather is great. Cooler temps than usual, and mostly dry skies. We're gonna be at it steady through the rest of this month. But, once April hits, the pace picks up. Come May? It's "the Game is on!"