Signup for MGFC's eMail Newsletter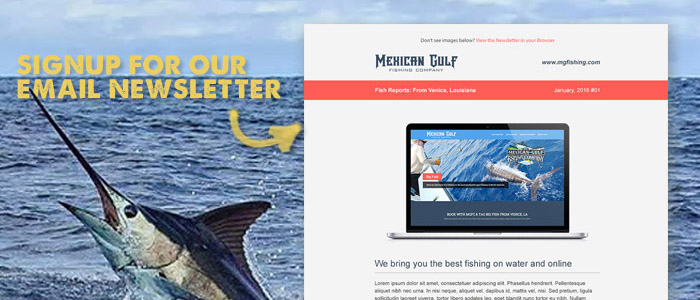 Get all the latest content about blue water charter fishing in the Gulf of Mexico from the Mexican Gulf Fishing Company (MGFC). Read MGFC's eMail Newsletter from Venice, LA.
We've just launched our new website, and we'll soon be publishing the first issue of our eMail Newsletter. Signup now to stay up-to-date with the latest fish reports from Venice, LA. We'll also publish gear reports and news from our sponsors. The goal is to give our fans an easy way to see what's happening on the boats and in the water with MGFC.
Signup Now! MGFC's newsletter is published from Venice, LA. We cover offshore fishing, gear reports, conservation and other issues related to sports fishing in Louisiana and the Gulf of Mexico.
The signup form can be found in two places: at the bottom of this page, or in the sidebar on this Blog. Either way, look for Newsletter Signup.