Bonus Blue Marlin for Travis Mayeux's Charter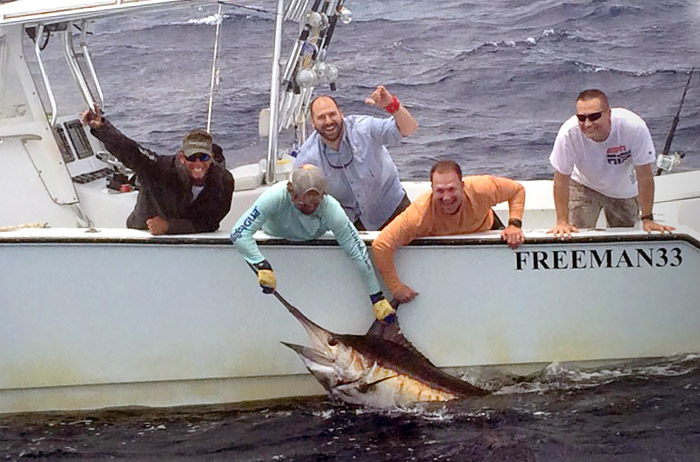 Capt. Travis Mayeux had a helluva first day as a full Captain with the MGFC.
Fishing in rough seas from The Sweat Shop, his 33-ft Freeman catamaran, Mayeux had a five-person group on a charter approximately 50 miles offshore from Venice, LA. He was fishing along side Capt. Kevin Beach and his charter on The Pale Horse, when Beach yelled out, "We just had a Blue swim right past us."
Mayeux's group were live trolling for yellowfin tuna as they moved to strike on the marlin. En route, The Sweat Shop hooked two tuna.
"So, … I've got the boat holding steady in 6-8 foot seas," says Mayeux. "I've got customers with two huge tuna on the line, and a Big Blue Marlin staring us straight in the face. I broke one off, and cast a bait right at the Marlin. The result?
"Five, four, three, two, … One! Hell yeah, I set that hook, and she jumped, and she jumped, and she put on a phenomenal show. We reeled that 110 pound tuna into the boat, while Trey Landry, of Baton Rouge, fought the marlin."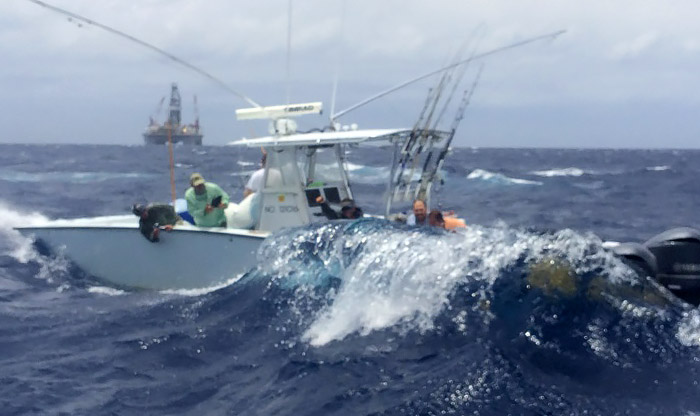 The battle lasted more than an hour, but the fish was had. At nearly 300 pounds, Mayeux's charter successfully fought and landed a big yellowfin and a "Sweet Blue," from opposite sides of the vessel, at the same time, in crazy rough seas.
"We had six to eight feet steady. The weather came out of the north. It wasn't supposed to push that far south, but it came up on us quick," said Mayeux. "We had blind siders rolling at 10 feet plus. But, we had fish, and we were determined to land them."
The marlin was caught from The Sweat Shop on a Shimano Terez 5-ft, 6-in rod, with a Talica 50 reel. They used 130# Seaguar fluorocarbon line, and a 10/0 Mustad 39950 "Demon Perfect Circle" circle hook.
"That was nasty weather, and a delicate situation Travis was in," said Beach. "But, he handled it like the champ he is. The beauty for us is in the gear. He used that castable Talica 50, and put the bait right on top of the fish."
"Look at the photos though. This is why we fish from Freemans. Look at what mother nature threw at us, and how we were able to handle it."
Davis Hardesty served as Mayeux's mate on The Sweat Shop. The Marlin was the first for Landry, the first for Mayeux as a Captain with MGFC, and a first for Hardesty on The Sweat Shop.
Says Mayeux, "what a range of emotion for everyone. That weather was the worst of the worst, then the marlin gave us the best of the best. Wouldn't have it any other way!"
When asked if by that he meant, fishing in rough weather always adds to the excitement, Mayeux admitted, "well, I'll give ya the weather. We could'a done without that. But, our equipment lets us deal with that. We had a great time, except for the long ride back in. Ask my customers though, and I'll bet they didn't notice. When you catch fish like that on a wild weather day like that, it's a buzz you'll keep with you for a long time."
With a day off this morning, what did Mayeux do? He went fishing, of course.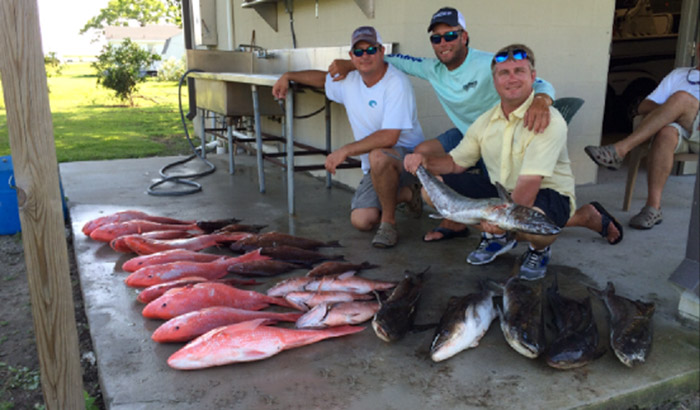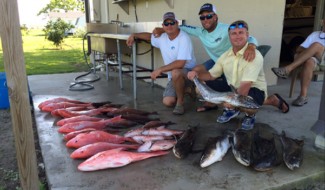 "Left the dock at 7:30 am, just me and two buddies," said Mayeux. "We caught a limit of Red Snapper just about 2 miles out, a bunch of mangrove, then ran a little further and caught 5 cobia. Back at the marina by 1:15."
Not shabby for a first timer. We think this Mayeux fella has a bright future with MGFC. I guess we'll keep him.
To book a Charter with Travis Mayeux, use our booking form. He has availability starting in July, but with legends like these under his belt, those calendar days are filling up fast.