Swordfish Charters: Parker Rodrigue and Jordan Ellis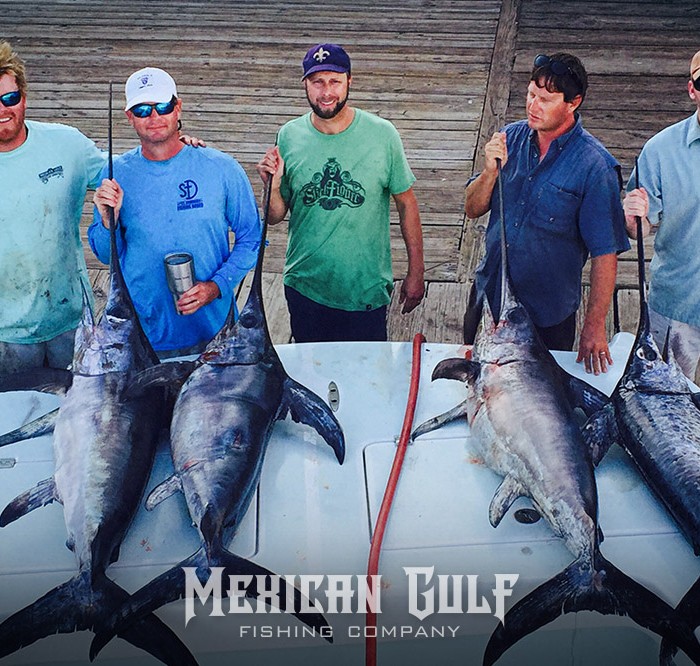 Everyone knows Mexican Gulf Fishing Co. is home to some bad ass captains, and everyone knows The MGFC is the outfit you call for yellowfin tuna charters. What everyone might not know is The MGFC has built a name for itself as the operation you call for swordfish charters — as in daytime swordfish in the Gulf of Mexico.
True to form, and honoring that well-earned reputation, Captains Jordan Ellis and Parker Rodrigue put customers on swordfish with aplomb on a few recent outings. Mother nature hasn't been kind to any fishermen in south Louisiana during October and November this year. Winds, usually hell bent and howling in the Spring have been a near constant this fall.
Some days felt like we were swirling in a never-ending tropical storm, and on many recent days, … the seas have matched as we've seen plenty of 5-7s with occasional 11s rolling not far offshore. On days like that it means the boats stay in.
Which means — on those handful of days when weather cooperates — we make the absolute best of it. So, … if that means catching our limit of yellowfin come hell and in spite of gray-green water, we're gonna do it. If that means flashing a grin and going after daytime swordfish, too — that's what we're gonna do. In fact, that's what you want us to do (and we know it). Game on.
See what swordfish charters are like when fishing with MGFC. 
Daytime Swordfish Charters at MGFC
On back-to-back days in early November, Parker Rodrigue and his mate, Jeff, went out on the f/v ShockWave, our unique and legendary 40-ft Freeman Boatworks catamaran. Parker and Jeff landed three daytime swords. Fast forward a bit, and Capt. Jordan Ellis, in the same vessel with Jeff Schneider again as 1st mate, pull in a four pack — four nice swordfish for their charter, with three tight all at the same time.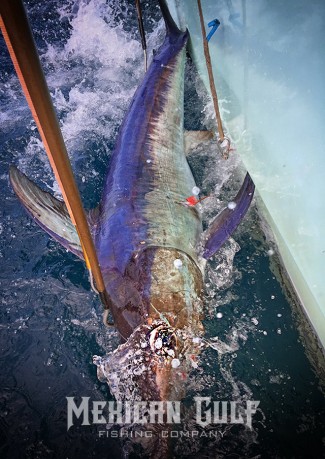 Listen to Parker tell it, "Jeff and I were in 2-3 foot seas on a beautiful afternoon after a foggy bottom morning. We had a small group on board, and it was slow going with caution heading out in that thick soup, but thanks to our Simrad electronics we made it without concern.
"The tuna just were not biting that day. We had success with a few 30-40 pound yellowfin, but we were not seeing any signs of larger fish around, and we thought a change of pace might be good for our focus. So, we drop squid, having prepared a number of baits the night before. We drop squid, and figure we're going to work swords through the afternoon. Not a chance, an hour was more like it!
Parker and Jeff had two fish on, and they brought both into the boat. What's more amazing? They brought one of them up in under 9 minutes. Check that, and roger-roger: that's one 220 lb. swordfish from tight to harpooned in under 9 minutes.
A third fish came later, but not much later as they had all this action sewed up, and were headed back to Venice Marina with just another hour on the open water.
Jordan Ellis and a Swordfish 4-pack
Jordan Ellis, not to be outdone on his own vessel, one-ups the young guys on his next outing. Jordan put his charter on 1, 2, 3, 4 swordfish. Broad smiles and high fives flying all around. Bonus, that the group already had been treated to an epic battle with a 12 ft thresher shark.
Says Jordan, "you know, it's just a blessing to be able to do what we do for a living. We had another crazy and crazy fun day. First, the thresher, and then four nice sized swordfish in the middle of a beautiful afternoon. I'll take it."
Back at the dock in Venice Marina, anglers were passing by the ShockWave to see the catch. Capt. Jordan had the four swordfish displayed across the bow of his Freeman catamaran. Passers by of course wanted to know, "where'd you catch 'em?" And, what did you use? To that, Jordan says, "we prepare baits the night before, squid, and they're ready for us when we decide to target the swords. We use Shimano rods and reels, Seguar Fluorocarbon Premier and Big Leaders, and Mustad Circle hooks." He says swordfish love fresh bait fish, and confirms it's durability of the fresh bait that is key.
Jordan says one key to catching swords is to be patient, but to also be prepared for anything. He and Parker usually rig up a few baits the night before.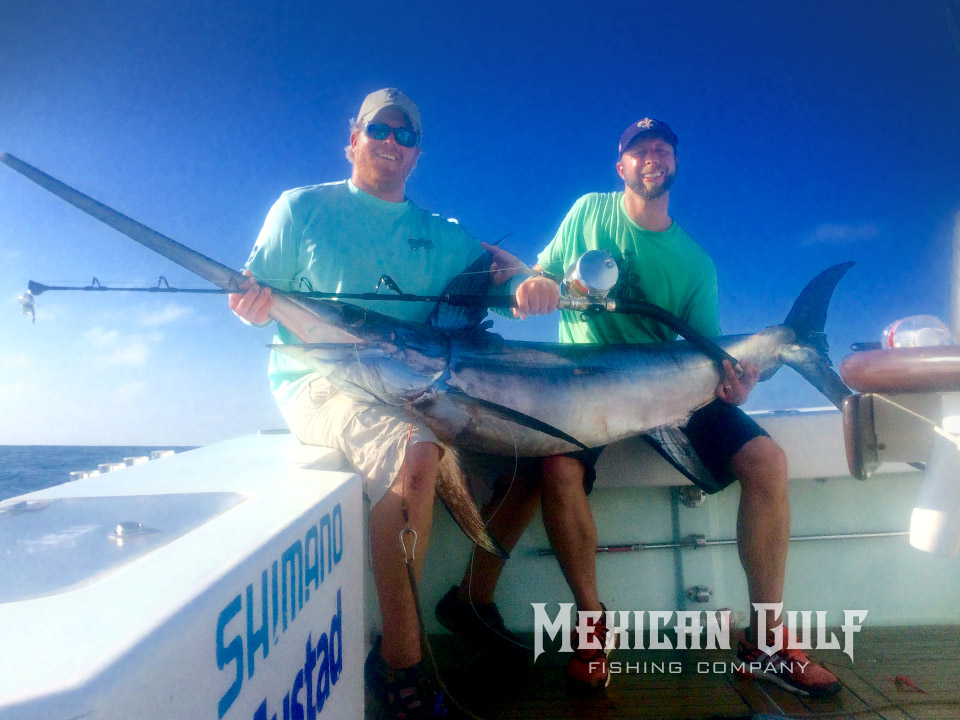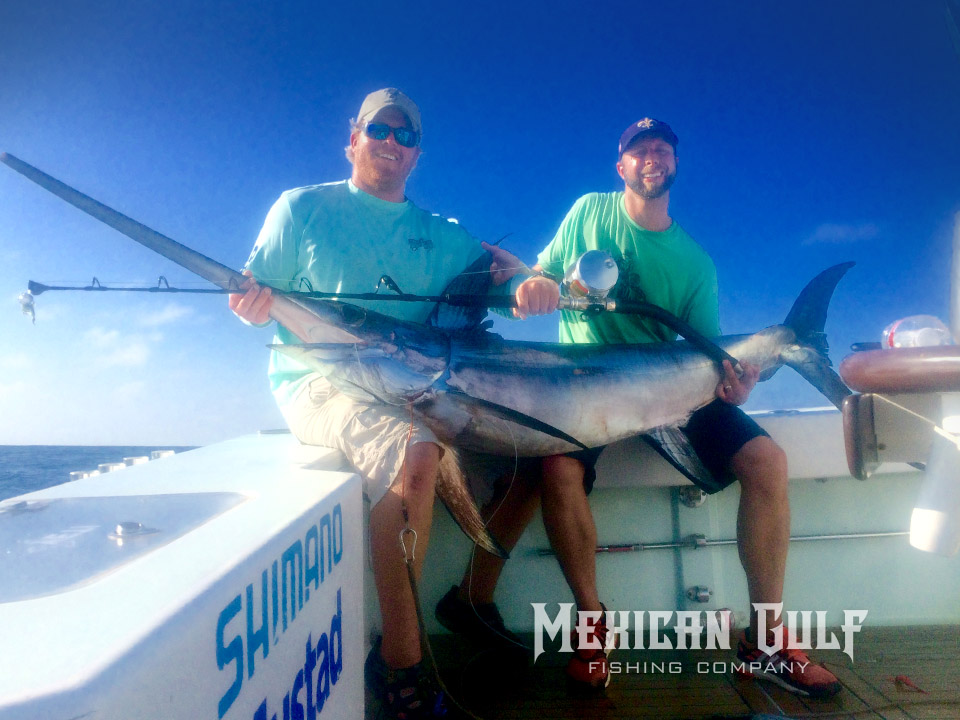 Swordfish, once fished mostly at night by MGFC, deserve every ounce of their swash buckling namesake. "We've caught every big fish there is to catch in the Gulf of Mexico,"says Ellis. "From huge makos to blue marlin, you name it. But for me, there is nothing like catching a daytime swordfish. They're powerful, they fight till the very last second, they swim at mammoth depths, and they taste great. They're great table fare," says Ellis.
He says it's quite a charge to go through all the preparation and to be rewarded by landing one big fish per man on the boat. Now that's what swordfish charters are all about.
"It demands much to exhibit patience waiting on fish, big fish that you know are somewhere, down there, deep deep below," says Ellis. "This isn't non-stop action fishing like with some species. It is calm, and then Wham! Fish on, line is tight. Battle begins. Sometimes we use electrics, sometimes we use manuals. Either way, our customers enjoy the thrill of it all, and we never tire of bringing these pre-historic looking creatures to the boat."
Make claims on swordfish charters. See if your group can match the Swordfish 4-pack.
While you're at it, remind the captain he better damned well put you on some tuna, … and you'll have tight lines, big smiles, and great memories.
This is what its like when fishing with The MGFC. Book your swordfish charters with MGFC today.
This slideshow requires JavaScript.