Wahoo Fishing Venice: Winter – Spring 2015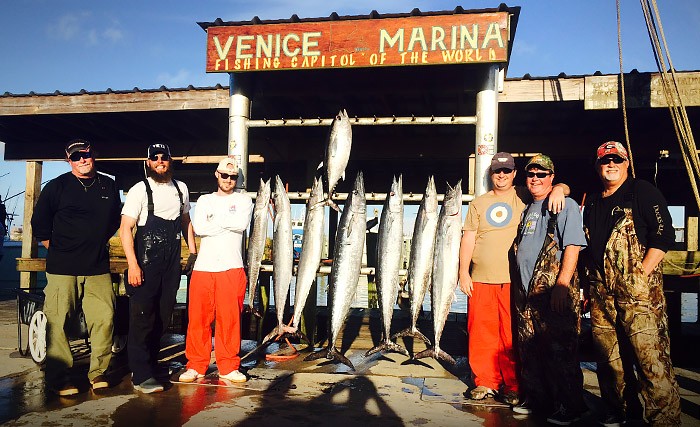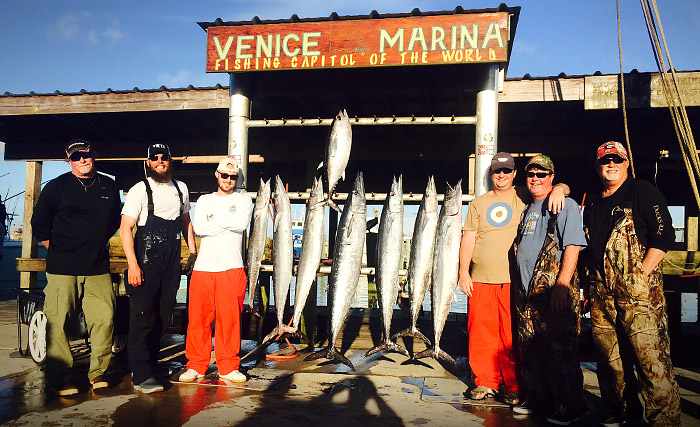 Offshore fishing has been up and down since early February, but wahoo fishing has been strong since the start of the new year. Wahoo and yellowfin tuna both showed up by the 2nd week in January, and the wahoo bite has been most consistent.
Shown above, Capt. Travis Mayeux on the f/v Sweat Shop, with seven wahoo. He's had a keen eye  and a hot hand for nice fish all February and into March. On this one trip, his boat landed seven wahoo a couple of yellowfin, and a few blackfin tuna, too.
The late winter / early spring wahoo fishing that's been booming in recent years held to form in 2015. The Gulf of Mexico just off Venice saw another January – March invasion of deep blue, toothy critters, and it made for joyful trips for plenty of our guests.
"They averaged 40 to 50 pounds mostly," said Mayeux, "but we caught some some 60-plus pounders, too."
Size wasn't the only constant in the wahoo this year. The numbers were good, too. Mayeux loaded the Sweat Shop with a plethora of the tasty critters on a number of occasions.
"You might lose the size a bit when you get more numbers, but it's great fun," says Travis. "Monster wahoo are killer fun to catch, but the small and medium ones have a distinctive bite and fighting style, too."
Many anglers think wahoo are loaners, but that isn't really the case. You won't see large schools of them like you do with dolphin, but they come in packs. Mayeux says, "when we get a big one online in a few hundred feet of water, I'll always come back around to the spot and cast for some others."
Wahoo have a grand reputation among anglers "in-the-know," not everyone though knows what the fuss is about. One, they're among the best tasting fish in the sea. Delicious with the least bit of simple preparation. Second, they're fun as hell to fight. With a fierce and distinctive bite, you'll think it's a wahoo on the line, and you'll be sure when that sucker turns tail and runs 200 + yards away from the boat. Watch out though, they're known to turn right back 'round and head straight for ya.
Been awhile since you've caught a wahoo? Haven't yet had the experience?
Book a charter with Capt. Travis Mayeux. Check open dates on his calendar right here.