Blue Marlin & Yellowfin Tuna, too – Venice, Louisiana
Many people send us emails and facebook questions asking what it's like to spend a day with Mexican Gulf Fishing Co. We tell them, it's like any other good day you've had, … only better.
Half joking of course, and half serious. A day fishing with any of our five captains is as good as you want it to be. Mother nature doesn't always cooperate, but we are always able to show our charters a grand time. We know it isn't a secret that we're almost always able to put our charters on big fish, … lots of them, too.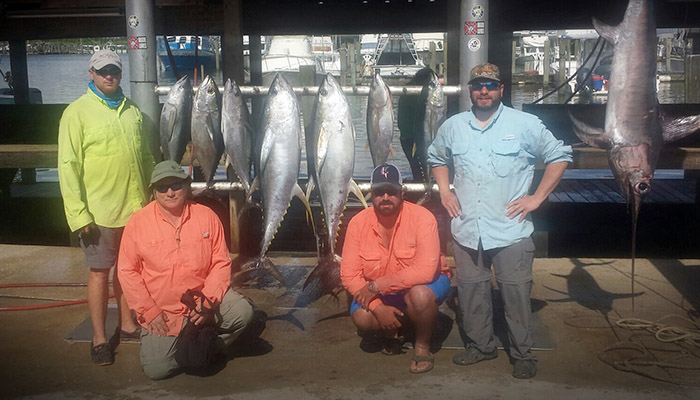 Case in point: yesterday afternoon. May 19, 2015, we had five captains on four boats. All four boats came back to the dock loaded with fish. Three of the four came back with marlin and yellowfin tuna.
We love coming back in with lots of fish in our chests. Most people come down and fish with us, and all they want to hear about is yellowfin tuna. We like to say, let's target that species, and let's plan for something extra, too.
The most fun thing about yesterday's scenario is much of the action happened in one brief spurt late in the afternoon. Sun was shining, water was blue and damn near perfect. We already had good yellowfin tuna in each boat, but the Gulf wanted to bless us with a few more fish.
There's nothing quite like watching a group of friends band together to cheer each other on, and help them haul in billfish and yellowfin tuna. On just that one day, we had groups from Alabama, Georgia, Mississippi, and Texas. Just this past week, we've had customers from as far afield as California and South Dakota.
Capt. Colin Byrd, Capt. Billy Wells, Capt. Jordan Ellis each put their Tuesday charters on yellowfin tuna. They brought a few other species into those boats, and then turned attention to blue marlin. Success was had on all three. I'm telling you, you'll see no broader smiles than the smiles on charter passengers rolling back in with a few hundred pounds of yellowfin tuna, chests full of mahi mahi, and memories of that one blue marlin they hauled in on a light breeze, and calm blue seas, in the late afternoon sunshine on board one of the Freeman Boatworks cats at MGFC.
They love it, we love it. And, we're ready to do it again, … tomorrow.
When you're ready to see yourselves in one of our photos or videos, book online.
MGFC's open dates are posted one year out. Pick the days you want, and we'll help you get 'er done!