Daytime Swordfish Yes, that is a Thing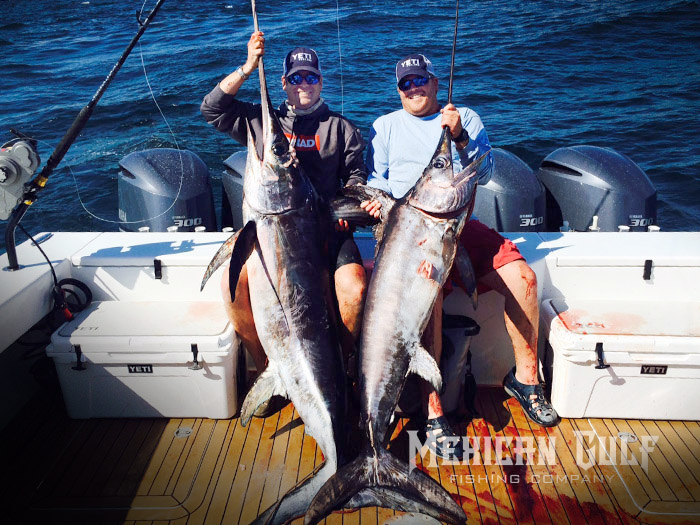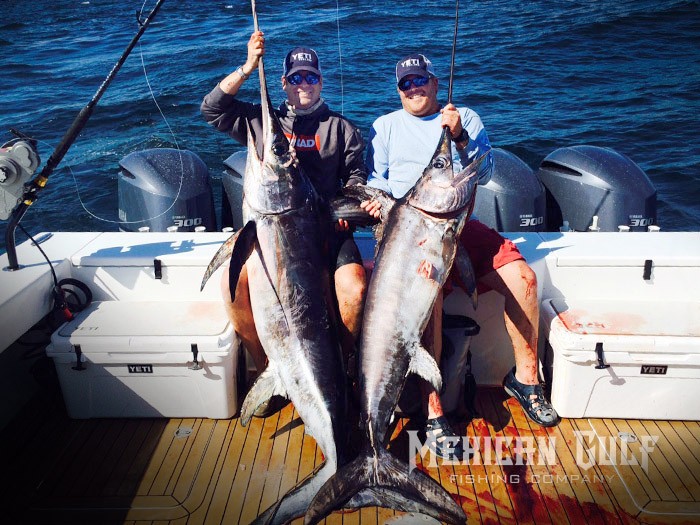 Swordfish are known as denizens of the deep, dark sea. They live at great depths, only rarely come up to the top half of the water column, and they most often feed at night.
Going for swordfish is always an adventure. It's even more so when you target swordfish during the day. It's quite a treat, which requires patience, skill, precision, and an alert attitude by everyone on the boat.
The captains at Mexican Gulf Fishing Co. have all caught their fair share of daytime swordfish. This summer is no exception, but through May — the swordfish action has been frequent — and rewarding.
It all started a few weeks ago, said Captain Billy Wells.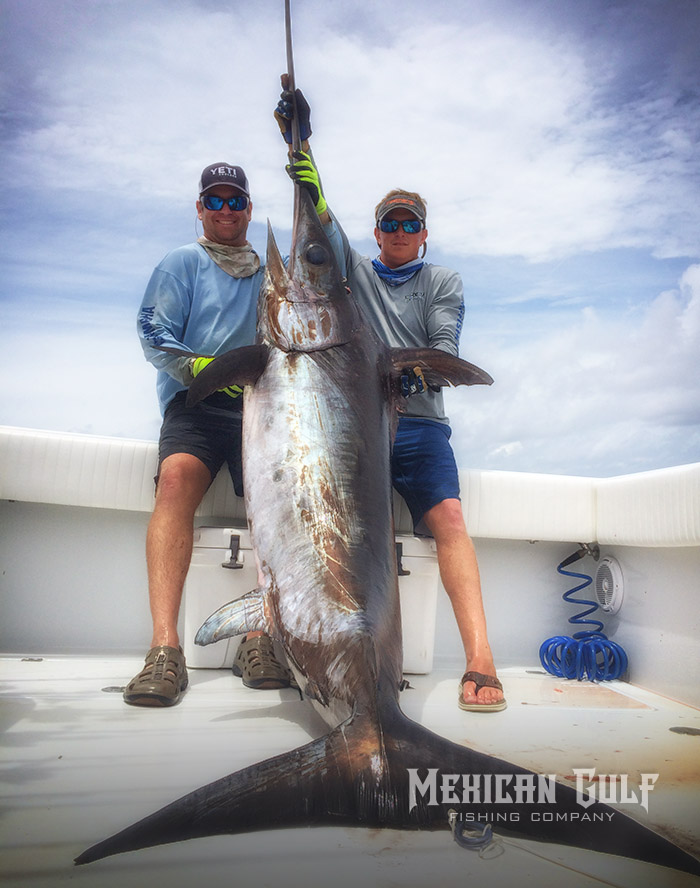 "I was out one day, and my charter had caught a half dozen yellowfin tuna," he said. "We had a few other fish in the boat. Blackfin tuna, and some mahi mahi. They day was still kind of young, so I suggested we target swordfish. We had a few quality bites almost immediately after we set things up, but one bolted away, and I made a promise to those guys that we were going to get that fish."
True to his word, Wells set the rigs again, dropped baits, and deftly maneuvered the boat. He knew the swords were down there, and he wanted his charter to bring some up from the depths.
"Ten minuets, tops," says Wells. "Ten minutes, and i see that friggin ever so slight signature bob of the rod tip. I'm excited now because I'm sure we have another fish down there. He's swatting and whacking at the bait, but we keep our composure, tease him a little bit, offer just the right amount of finesse."
Wells and Capt. Colin Byrd work the boat, all the while listening to their customer who is telling them what he's feeling on the line. Together, they work as a team to bring the fish from deep, dark water, and within 30 minutes, they get their first glimpse as it cracks the surface and put on a bit of a show.
"Haha! Big smiles all around, but no high fives just yet," said Colin. "We've still got work to do. This is where it gets intricate. This is where the fight gets fun."
With Daytime Swordfish Communication is Key
Billy and Colin agree: Swordfish (day or night) is a team effort. It requires great communication, and everyone on the boat must stay keenly aware of their surroundings be be alert. MGFC's captains make adjustments with the boat, and by watching and listening to customers, they provide guidance with drag to help you stay tight at these close distances when the fish comes towards the surface, and eventually near to the boat.
Catching daytime swordfish requires preparation, execution, communication, skill, precision, and finesse. It's like a mini orchestra at sea being conducted by the charter captain, with the customers as the star players. When done right, the reward is in seeing giant fish being pulled into the boat.
These are extremely powerful fish caught in seriously deep amounts of water. Hour plus fights are common, and they're known to make blistering runs up through the water column, before finally capitulating, and calling it a day.
When asked what tips he can give about sword fishing, Capt. Billy says, "that first tap on the rod is crucial. We've got to see that first tap, then monitor it to be sure we've got a fish down there to tease."
Capt. Colin says, "you've got a bait lying 1,500 feet down near the bottom of the sea. Obviously, we're not sight casting here. We're always working to refine and improve our methods, but it is a true combination of the gear, the boat, the way we handle the boat, properly dropping that bait, and then being quick to react when we've got one on the line."
Plenty of Swordfish on the Lines Lately
MGFC has had plenty of swordfish on the lines so far this summer. Daytime swords, still are a rare treat, but Capt. Billy, Capt. Colin, Capt. Jordan and Capt. Beach have each pulled in daytime swords in recent weeks.
Says Billy, "it's something charter customer should ask us about. We won't be able to do it all the time, but on those days when you've already got a good group of yellowfin tuna in the boat, and we were lucky enough to catch those tuna with a good amount of daylight ahead of us, then heck yeah, and why not? I like to show my customers we can target two species, with two completely different approaches to fishing, and make it an even more special kind of a day."
Next time you book a trip with MGFC, ask your captain about swordfish. Next trip you book with MGFC, ask your captain if there are other species your group can target besides simply going for yellowfin tuna. You'll enjoy the difference, learn more about the craft of offshore fishing, and come home with something new for your freezer.
This slideshow requires JavaScript.