Offshore Charter Fishing: Parker Rodrigue & Wade Wells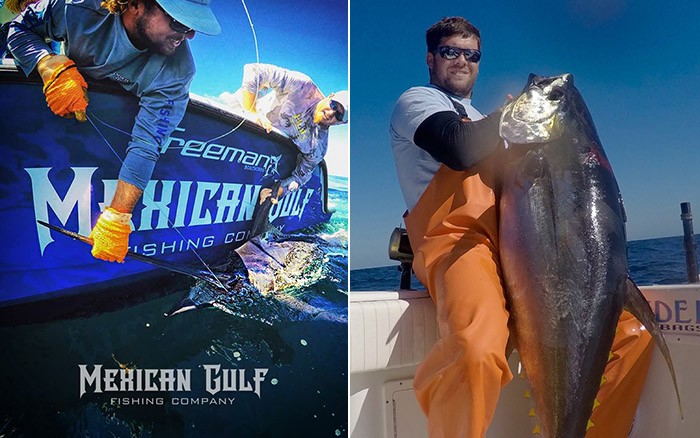 The Mexican Gulf Fishing Co. is proud to open offshore charter fishing with Capt. Parker Rodrigue and Capt. Wade Wells. Online booking calendars are now available for Parker and Wade in 2016. Fish offshore in blue water with Parker and Wade this summer.
"Parker has been my 1st Mate for some time," says Capt. Kevin Beach. "He's a great mate, and he's ready to run trips on his own. He's been fully licensed since we hired him. He's a Louisiana native, and this is what he is built for. In my opinion — you fish with Parker Rodrigue — and you know you're fishing with a pro."
Parker Rodrigue currently is open for a handful of primo weekend days starting in March, and running through April, May, June and July. You can book Parker online, just visit Parker Rodrigue Offshore Charter Fishing at MGFC.
"We will open Parker for more days as we get further into the Summer," says Beach. "He's open now for about 15 days, and we expect to make him available for more in the later Summer and into this Fall."
Wade currently serves as 1st Mate to Capt. Zach Lewis. Says Zach, "Wade is a great outdoorsman. We're lucky to have him at MGFC. He's fished all over the northern gulf coast, so he has points of comparison. He's been in Venice now for three years. We expect great things from him when he starts running trips later this summer."
Wade's online booking calendar is open now. His first open date is June 1st, 2016 and run through November before closing in December for the holidays. He will be open for the full year again with MGFC in 2017. You can find a direct link to his online calendar right here: Wade Wells Offshore Charter Fishing with MGFC.
Offshore Charter Fishing with MGFC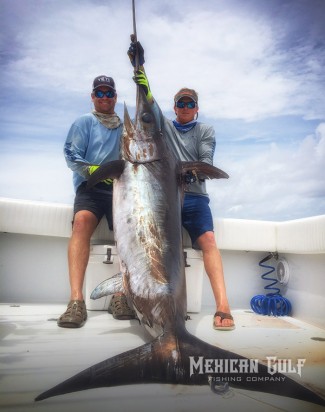 We are Louisiana's premier offshore charter fishing company. With six captains, running fast catamarans, you'll spend more time fishing and less time running. We take customers (up to six passengers per boat, in one group) on 10-hour offshore charter fishing trips from Venice Marina, at the Southern tip of Louisiana — the Yellowfin Tuna Fishing Capital of the World.
A day with MGFC starts at the dock around 5:30am, with departures between 5:45 and 6am. Our captains and first mates, take your group on a classic and beautiful early morning ride through the unique and meandering passes of the Mississippi River Delta system.
Once out on open water, it's usually a short run to our first stop. What's more? This portion of the Northern Gulf of Mexico is not like Florida, Alabama or Mississippi — we're not just bottom fishing here for snapper and grouper — we can do that, for sure, and we also can run laterally for big pelagic species, shifting technique and style to suit your mood and to fit the winds.
We fish fixed, standing rigs, we fish floating rigs, run behind the shrimp boats, and take customers on classic Lump trips for yellowfin tuna. We also fish year round for a variety of other game species — including wahoo, marlin, cobia, amberjack, pelagic sharks, swordfish, mahi-mahi, grouper, snapper, and many other fierce fighting and tasty sea critters.
Offshore Charter Fishing Parker Rodrigue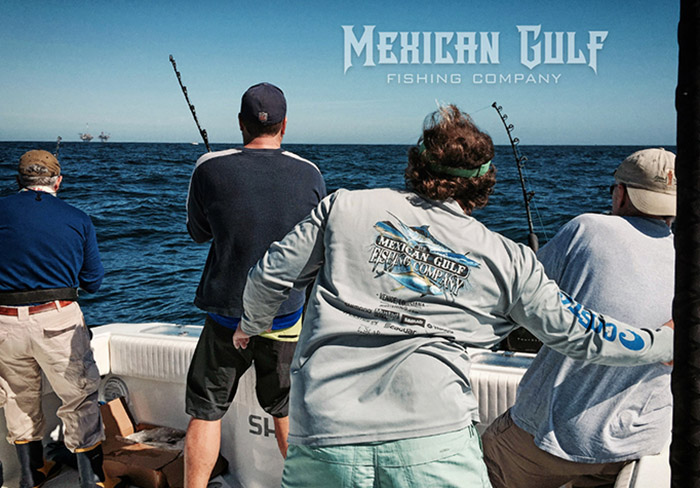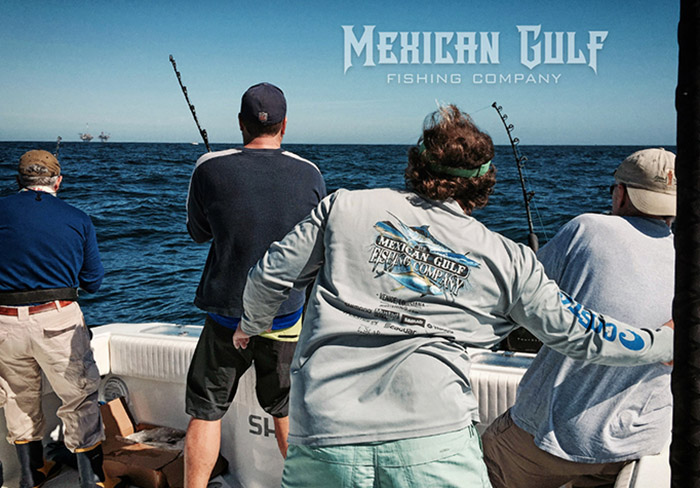 Captain Parker Rodrigue loves fishing on the Gulf of Mexico. He says the deep blue waters off the coast of Louisiana rival — even surpass — what's on offer in places such as Hawaii, the Dominican Republic, and Panama.
Offshore Charter trips with Parker are $1,700 + fuel — per boat, per day. Each boat holds up to six passengers.
Fuel averages 150-200 gallons per day.
Fees include the guided trip plus all fishing tackle, bait, ice for the fish box on the boat, and fish cleaning at the dock
Parker runs a 37-ft Freeman Boatworks catamaran for The MGFC.
It sports the latest in Simrad electronics, tackle by Shimano and Mustad, and comfy bean bag chairs from E-SeaRider. Day trips in blue water for up to six passengers (in one group) on a 37-ft Freeman Boatworks Catamaran.
Capt. Parker says:
No matter what, and on every trip — something interesting is gonna happen. Have fun!
The Gulf is such a rich fishery — let's get some Tuna, and let's target other species, too.
Fishing with Parker Rodrigue is a full throttle experience. Sunup to Sundown, Parker is with you leading, guiding, listening and putting you on nice fish every step of the way. He's fished these waters and learned respect for the bountiful South Louisiana fishery since childhood. Louisiana born and bred — there's no place he'd rather be.
Offshore Charter Fishing Wade Wells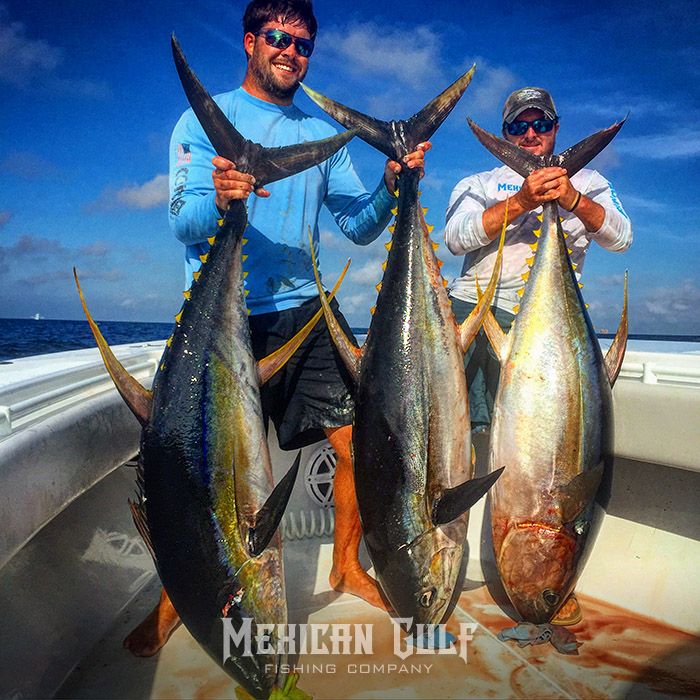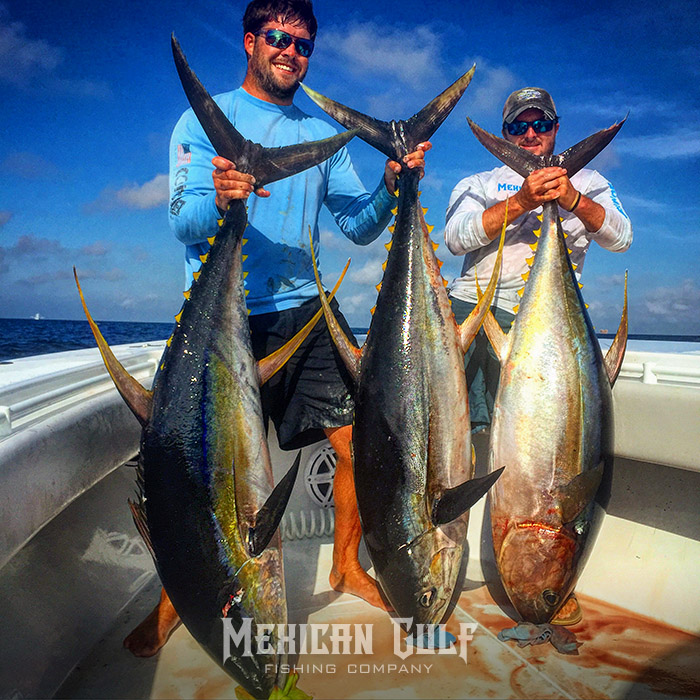 Fish with Capt. Wade Wells at The Mexican Gulf Fishing Company.
$1700 + fuel per day for a blue water, offshore charter in the Gulf of Mexico out of Venice, LA.
Capt. Wade looks forward to having you on board.
Wade has won and placed in a number tournaments, and truly enjoys showing his customers a memorable trip through his incredible passion for fishing in the bountiful waters of the Gulf of Mexico.
Wade was raised in Mississippi and Florida, but knew almost all along that he wanted to run offshore charters out of Venice. When asked why, he says, … "because Venice is one of the world's best fisheries. It is THE Spot for yellowfin tuna, and that is sort of my game."
Wade also loves to put his customers on wahoo , and relishes an opportunity to help charters land their first blue marlin.
He says, "Venice fishing is not only known for the large variety of species, but also for the size of the fish too! People come down here from everywhere and they're always thrilled to see the Blue Waters of the Gulf of Mexico and realize they didn't have to fly international to get to a gorgeous, deep blue fishery."
Anglers come to the Gulf for Yellowfin Tuna, Mahi Mahi (Dolphin), Cobia, Wahoo, varieties of Grouper, Red Snapper, Blackfin Tuna, Amberjack, Shark, blue and white marlin, and more. Capt. Wade has experience putting customers on all those fish.
Offshore charters with MGFC include — but are not limited to — fishing the permanent oil rigs, which act as reefs for marine life, fishing the floaters, which are moving oil platforms, fishing the Lump, or trolling behind the shrimp boats when in season.
Book online with Capt. Wade Wells. You'll be hooked, for sure.
About MGFC
Our rich history as a local fishing company that knows and cares deeply about the Gulf of Mexico and the ecosystem of South Louisiana distinguishes MGFC as one of the best in the business. Rooted in sustainable practices, and geared for those who want to experience the best that America has on offer, MGFC takes customers on all-day offshore charters out of Venice, LA.
MGFC has been fishing from this spit of land at the Southern tip of Louisiana since it's founding by Captains Kevin Beach and Billy Wells — both life long veterans of the area.
We have a rich history as an offshore charter fishing company, and we know this coast and these waters in detail. The Louisiana coast has changed a great deal over the years, but we still deliver the same promise to our customers: Adrenaline-filled offshore charter fishing adventures run with respect for the sea, and expressly for those who want to experience the "trip of a lifetime."
We may have a few new boats, and a few new names, but we're still MGFC — the fishing company founded by Billy and Kevin — owners of the Wild Bill and the Pale Horse. Everyone at MGFC approaches fishing with care and respect for every aspect of the business: our boats, the gear, the fish we catch, the people who fish with us, and the waters from which we make our living. Thank you for considering fishing with MGFC.
Why do people drive 80 miles South of New Orleans to fish with us in Venice, LA? It's because we have the best fishing (we're just miles from the continental shelf, and deep blue water), and because Venice is free from shopping malls, chain restaurants, tourist hordes, and traffic jams. This is the place people come when they want to catch fish. Visit those other locales when you need a few days at the beach.
Come to Venice to experience the best and most bountiful fishery in North America.
We are easy to find and easy to get to whether driving or flying. Come experience the laid back lifestyle that many seek when traveling to the far corners of the earth for world class fish. All without leaving the friendly confines of the USA.
All you have to do is look at fish galleries to see that we catch. We promise you won't be disappointed!
Check open dates online, and book with Parker and Wade today.