Offshore Fishing Charters in Venice, LA with MGFC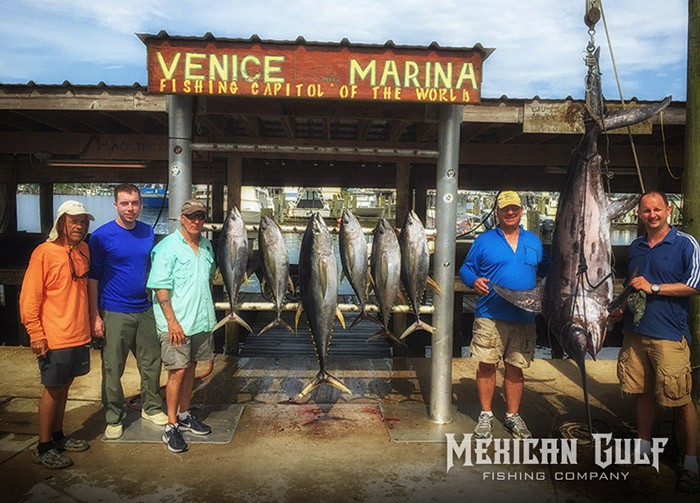 Looking to book offshore fishing charters? Looking to book offshore fishing charters in Venice, LA? Look no further than The MGFC.
We offer full day offshore fishing charters from Venice Marina at the Southern tip of Louisiana. We're just minutes from open water. In fact, our location makes a charter with Mexican Gulf Fishing one of the shortest trips you'll take to reach deep, blue water.
Looking for yellowfin tuna? Heard about our daytime swordfish action? Want to catch ice chests full of mahi mahi? We've got the answer.
Want some big wahoo? We're your ticket. Whether it's red snapper season or sharks you're after — the experienced and licensed captains at MGFC have your goals and best interests top of mind.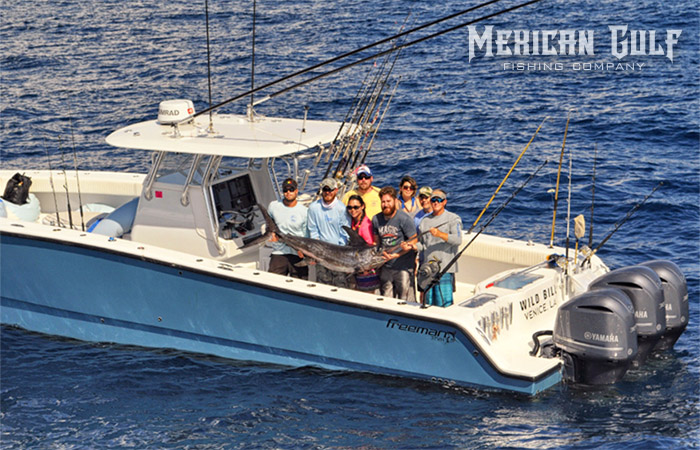 Our vision at MGFC is to offer top of the line experiences. We accomplish this with a relentless pursuit for excellence — always honing our craft, skills, and technique. We guarantee you'll fish with the best gear (Shimano, Mustad, Seaguar), and we get you to and from the beautiful deep blue open waters of the Gulf of Mexico on board Freeman Boatworks catamarans, powered by Yamaha engines, and outfitted with the latest technology from Simrad Yachting systems.
What's it like to fish with MGFC?
See what our customers have to say:
Had a great time as usual  with Travis. He worked  hard to find my limit of red snapper  and mangrove  snapper.  Looking forward  to our next trip this fall. — Wilbert Reid and friends.
For so long I looked forward to catching a yellowfin tuna.  I currently live in Naples Fl, and traveled to Hawaii to catch a yellowfin.  Unsucessful I returned home. With Capt. Jordan Ellis my tuna dream came true.  I can't say enough about the professionalism. The fishing crew consisted of my brother, his to sons, my nephew, all from Pennsylvania.  The time spent with them and MGFC was priceless. — Bobby Paoletta and friends

We fished with Travis and had a really great time. He was very helpful, fun and even entertaining. We caught plenty of fish to send home and the experience was wonderful.  Thanks again, … especially to Travis for such a great time. — Rick and Cathy Nowakowski

We had a blast with Capt. Jordan and Lane. They could not have been nicer, and they busted their humps to put us on fish. I already have several friends asking to book with you guys. — Larry Smith, Austin, TX.
Offshore Fishing Charters: Fun with Friends and Family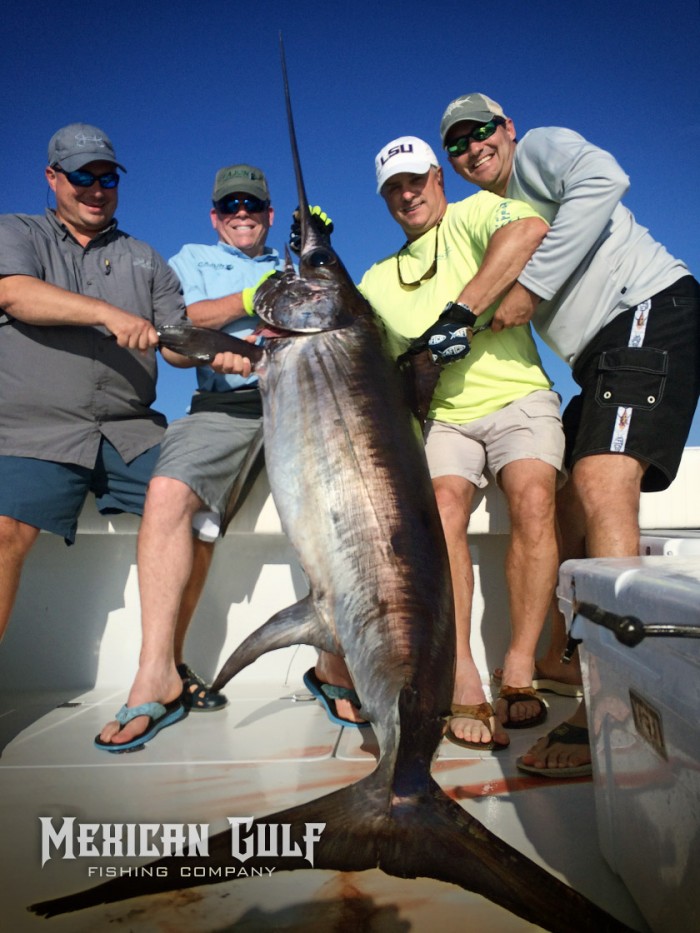 Everyone wishes for light winds and flat seas when heading offshore. We don't control mother nature, but we do control how we handle anything that's thrown at us. Captains at MGFC know the most important aspect of any fishing trip is to provide a great atmosphere where friends can relax, forget any cares, and share the experience of a unique outdoor adventure.
Whether its booking offshore fishing charters for big Blue Marlin or booking offshore fishing charters to limit out on red snapper, the first priority is a professional experience. Our guides listen to your requests. The MGFC knows where to fish, when to fish, and how, but all of this won't amount to squat if we don't acknowledge why you're fishing with us in the first place.
Maybe you've heard of us by word-of-mouth. That means we have a responsibility to those who referred us and a reputation to uphold. Maybe you read about us on this blog? That means we've got to put our money where our mouths are. Maybe you came across us on Facebook or saw us on one of many saltwater fishing sport TV shows — that means we have to prove to you we didn't just show you the best clips for the camera.
Above all, we know this is about sharing an experience with people you care about.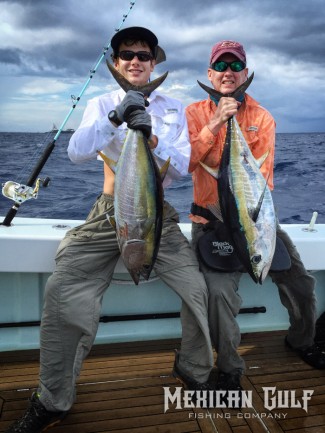 Know this: If it's people you care about, then we care about your people, too. Groups book our boats. Groups book our offshore fishing charters. Groups of friends and families trek down to Venice to fish with The MGFC. We take that responsibility with a sense of honor.
This is our backyard, and we know it well. We want to show you what it means to us. We know the waves don't always roll right, and the wind doesn't always blow calm. We've learned plenty of tricks and technique through the years, and I think we all agree: the best one is to roll with "whatever." Good things can be gleaned no matter what comes our way.
Larry Smith, from Austin, TX, said he and his group "had a great time with Capt. Jordan Ellis. Your guys really bust their humps to put us on good fish. We caught six yellowfin tuna. I'm glad we brought the big cooler with us. Already looking for another trip."
Jim Dietrich, who fished this summer with Capt. Billy Wells, said it best after his trip, "We had a blast! Our two young guys were fortunate enough to catch some tunas despite the bad weather, but we all know that is a gamble. Capt. Billy and his mate pulled out all the stops, and they really came through for us. Our hats off to them."
Dietrich went on, "As Schwarzenegger says, … I'll be back!"
Jim, we can't wait to have you.
To all those who have fished with The MGFC this spring and summer, thank you. Thank you very much.
To all those who have booked online with us for late summer and fall, we're looking forward to it.
Look here for more fish reports, and great tales from those groups who choose to book their offshore fishing charters with the Mexican Gulf Fishing Co. Photos, text, and videos always available here featuring yellowfin tuna, blue marlin, swordfish, wahoo, mahi mahi, red snapper, billfish and sharks.
Wanna experience offshore fishing charters with The MGFC? Book online, and share the trip with your family and friends.