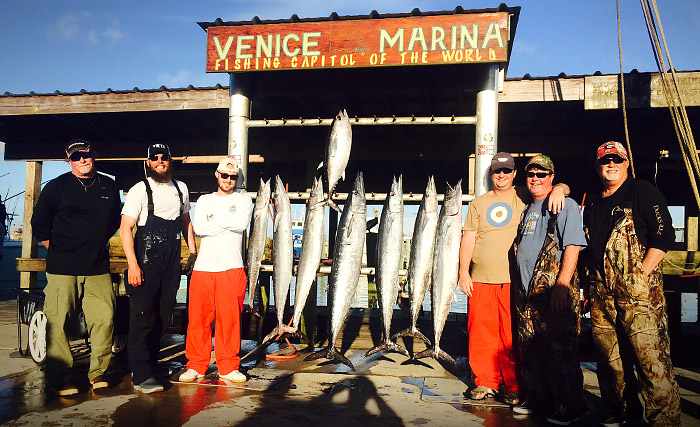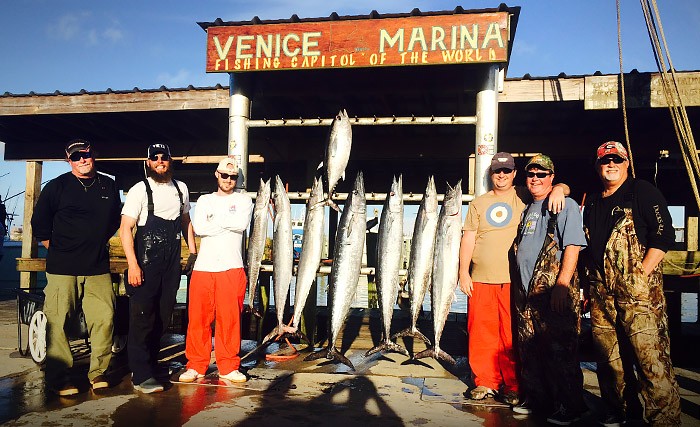 Offshore fishing has been up and down since early February, but wahoo fishing has been strong since the start of the new year. Wahoo and yellowfin tuna both showed up by the 2nd week in January, and the wahoo bite has been most consistent.
Shown above, Capt. Travis Mayeux on the f/v Sweat Shop, with seven wahoo. He's had a keen eye  and a hot hand for nice fish all February and into March. On this one trip, his boat landed seven wahoo a couple of yellowfin, and a few blackfin tuna, too.
The late winter / early spring wahoo fishing that's been booming in recent years held to form in 2015. The Gulf of Mexico just off Venice saw another January – March invasion of deep blue, toothy critters, and it made for joyful trips for plenty of our guests.
"They averaged 40 to 50 pounds mostly," said Mayeux, "but we caught some some 60-plus pounders, too."