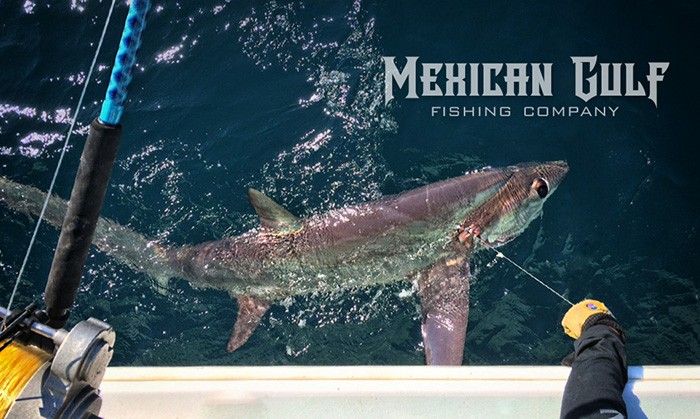 Is there's one species of fish that really gets the adrenaline flowing — for nearly all anglers — it's the shark. Capt. Jordan Ellis has caught plenty in his decade long career as a professional guide, and many more as he grew up fishing on the Mississippi Gulf Coast. Jordan put two charter groups on thresher sharks recently while fishing out of Venice Marina in the Gulf of Mexico.
Thresher sharks are strange and weird looking creatures. Average lengths are 12-15 feet long, with weights in the 200-400 pound range most common. They're good fighting fish, though protected so it's catch and release only. The unique thing about thresher sharks is their tail — it can be almost as long as their body — which makes it a sight to see once you realize what you've got on the line, and as you get it close to the boat.
There are three species of thresher sharks: the common thresher, bigeye thresher, and pelagic thresher sharks. They love warm waters in the Gulf of Mexico and can be found swimming at a wide ranges of depths.